Jump to:
---
Bookings Overview
Find out what's happening in your space with ease.
With Coherent, members completely manage their own bookings. They simply select the resource, date, time and press "Book". The system updates in real-time and automatically blocks any overlaps.
From the Bookings panel, you are able to see a calendar overview of the bookings in your space.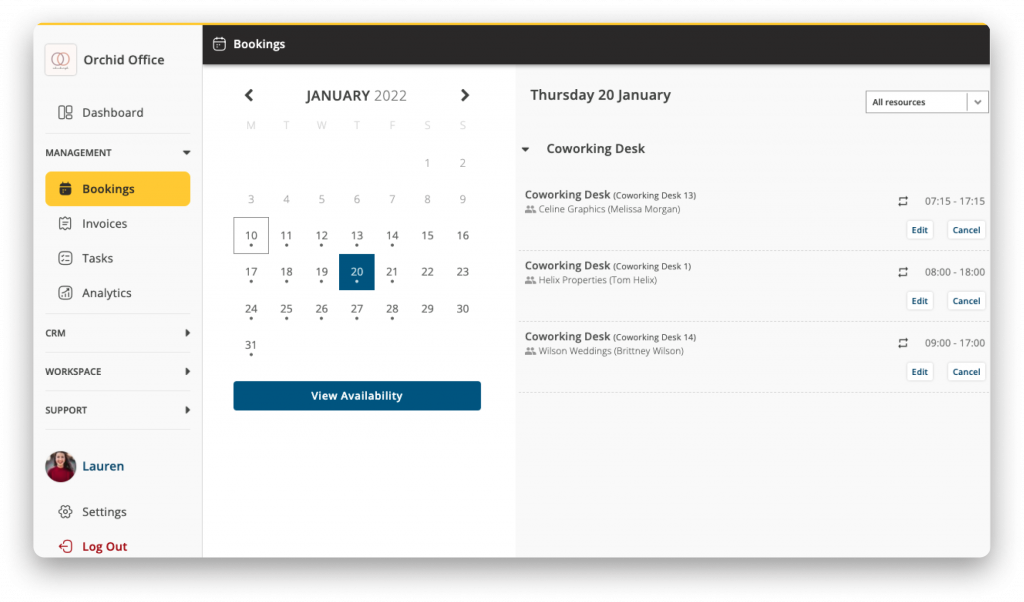 ---
As the workspace admin, you are also able to edit and cancel future bookings as you see fit.
Please inform members before you make any changes to avoid disagreements.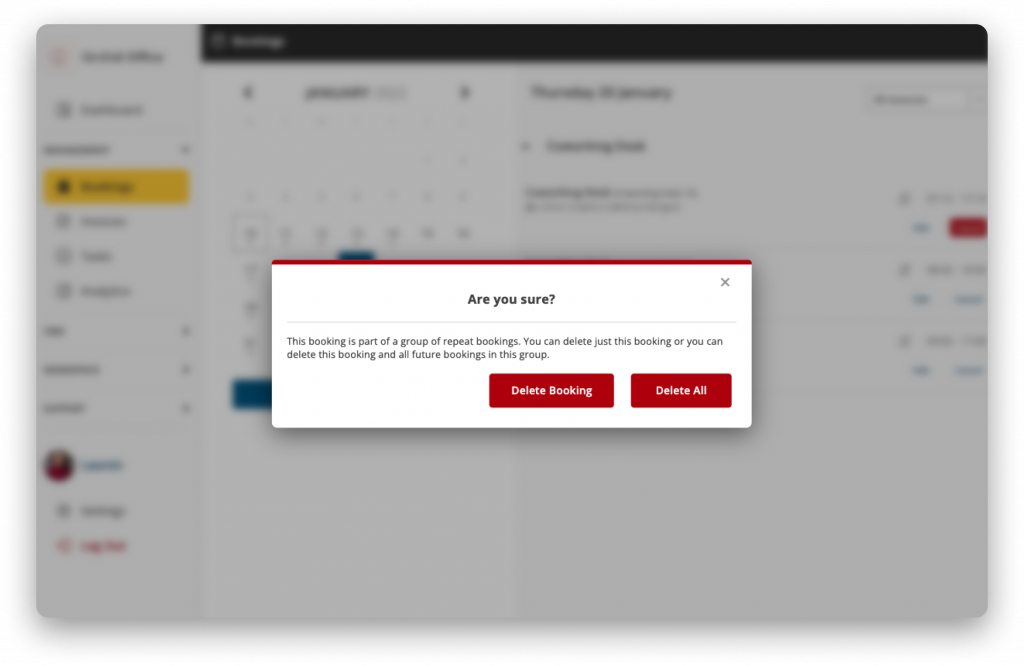 ---
Invoice Overview
Coherent automates all of your invoices, so all you have to do is keep an eye on them.
The Invoices panel will show you all payments that are currently running through the system, as well as all of your historic invoices.
You can search for invoices by organisation, invoice number or member. Alternatively, you can set filters to search specific date ranges, price ranges or invoice types.
How does Invoicing work in Coherent?
Coherent invoices members a month in advance. This is designed to give hosts and members plenty of time to check the invoices are correct.
For example, invoices for June will be generated on May 1st. Payment will then be collected on June 1st. Any additional charges incurred over the duration of May will be automatically added.
We recommend hosts check over invoices before the end of the month to ensure they are correct.
When the payments are raised with GoCardless on the 1st, current invoices will move to unpaid, you will have a few days in which you can cancel, edit and re-raise the invoice.
Make sure your members are aware of this time limit so they alert you immediately if they spot any discrepancies.
Pay as You Go invoices work differently. They can be raised on the day the booking is made, or the day it takes place. You can choose your PAYG preferences with your settings from the Workspace Dashboard.
Keep an eye out for any failed invoices, the system will provide a reason.
---
Editing Invoices
Sometimes you'll have to make invoice changes, luckily it's simple with Coherent.
With Coherent you are easily able to add positive and negative charges to your invoices.
Let's say someone is using your space for storage purposes. Search for the organisation and click on their current invoice. You will see the option to add a manual charge, simply enter a description and set the price. This will be added to their monthly invoice. Should you need to add a discount you can also apply negative charges.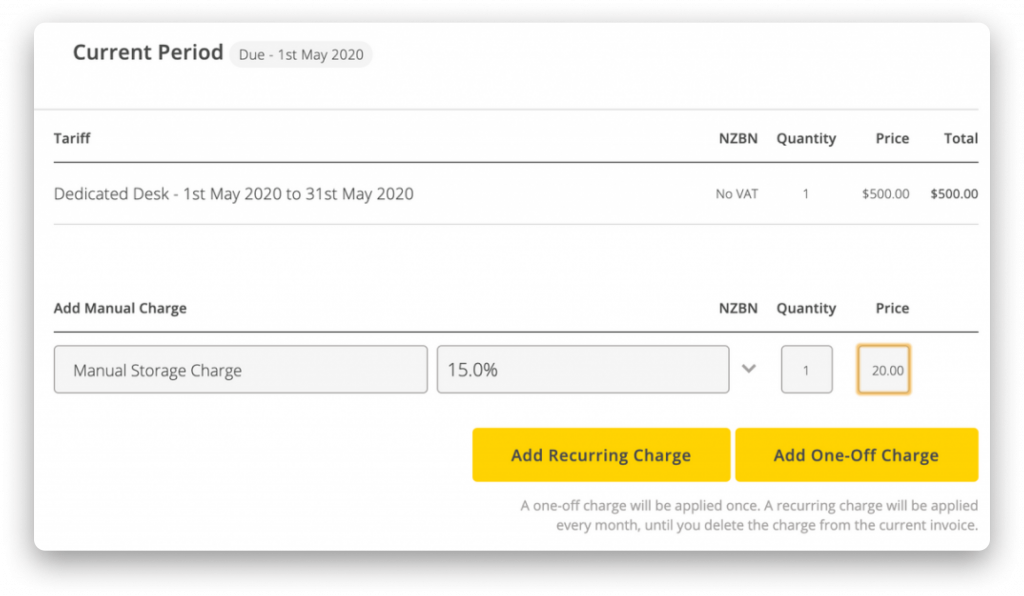 If your customers would like to receive a PDF copy of their invoice, they can acquire this via their own member dashboard, or you can download a copy on their behalf. Just click on the desired invoice and use print in the top right.
---
Please do not hesitate to reach out to us if you require any help setting up your bookings or invoices.
---
Frequently Asked Questions
Can members make multiple bookings?

Can I make a booking for members who call my workspace?

Is there a way of blocking out slots in our shared resources?

Can Coherent automatically add bookings to a Google Calendar?

What payment methods can I use with Coherent?

What does Coherent charge for each transaction?

Can I process payments by debit or credit card?

What is the minimum amount I can invoice a member?

When do monthly members pay for their bookings?

When do PAYG members pay for their bookings?

How do I cancel an invoice?

Can I invoice someone who isn't a member of my workspace?

How do I refund a cancelled booking?

Where do members change their bank details?

Where do operators change their bank details?
---