Coworking is changing the way we work, but what actually is it?
Coworking is relatively unexplored in the academic context.
"Coworking: A Transdisciplinary Overview" is one of the first academic papers looking to explain what led to its rise, and to explain what it actually is. In this post, we'll highlight some of the key findings from the paper.
---
What is coworking?
Coworking is a relatively new phenomenon, gaining popularity around the world and reimagining how we see and use workspaces.
To many, coworking means simply an open space with flexible pricing and access to facilities like wi-fi, printing, meeting rooms and unlimited coffee. But to academics, coworking is a social movement built on a set of values; collaboration, openness, community, accessibility and sustainability, and the principle of 'working-alone-together'.
Coworking spaces can be categorised as 'third places'. Sociologist Ray Oldenburg first coined this term as an "informal meeting place between the domestic home (first place) and the productive workplace (second place)". He defined 'third places' as "homes away from home where unrelated people relate" and considered locations like cafes, bars and bookstores.
Third places were then segmented as their function changed over time leading to the advent of 'Work-Learn-Play third places'; places that combine formal productivity with informal social interactions. Business incubators, serviced offices, hackerspaces, startup accelerators and maker spaces all existed under this umbrella, and since 2005, so too have coworking spaces.
---
Brad Neuberg
2005 is heralded with the birth of the term 'coworking'.
Its origin is not completely clear but there are three main origin stories, the first of which began with Brad Neuberg, a San Francisco based computer programmer. He opened a coworking space after longing for a community that combined the best aspects of a 9-5 and working from home
"Traditionally, society forces us to choose between working at home for ourselves or working at an office for a company. If we work at a traditional 9 to 5 company job, we get community and structure, but lose freedom and the ability to control our own lives. If we work for ourselves at home, we gain independence but suffer loneliness and bad habits from not being surrounded by a work community." (Neuberg 2005)
Although his workspace closed within a year, it inspired many others, like Chris Messina and Tara Hunt, to try and achieve Brad's goal; providing the "office of a traditional corporate job, but in a very unique way."
---
The Impact Hub
The second origin story also takes place during 2005; The Impact Hub was created in London to bring together people "trying to realize good ideas from their bedrooms".
The initial aims of these spaces were to promote social entrepreneurial action that would actually create change, as opposed to political protest that didn't get activists any closer to actually solving any problems. The Impact Hub is now one of the largest networks of coworking spaces owned by a single brand in the world.
---
Jellies
The final origin story began in early 2006 in New York.
Amit Gupta and Luke Crawford missed being able to share ideas with people around them when they were working from home. They started inviting their friends to work from home with them, calling these meetups 'jellies'. Over time, the concept of 'jellies' spread to cities around the world allowing anyone to create their own coworking environment.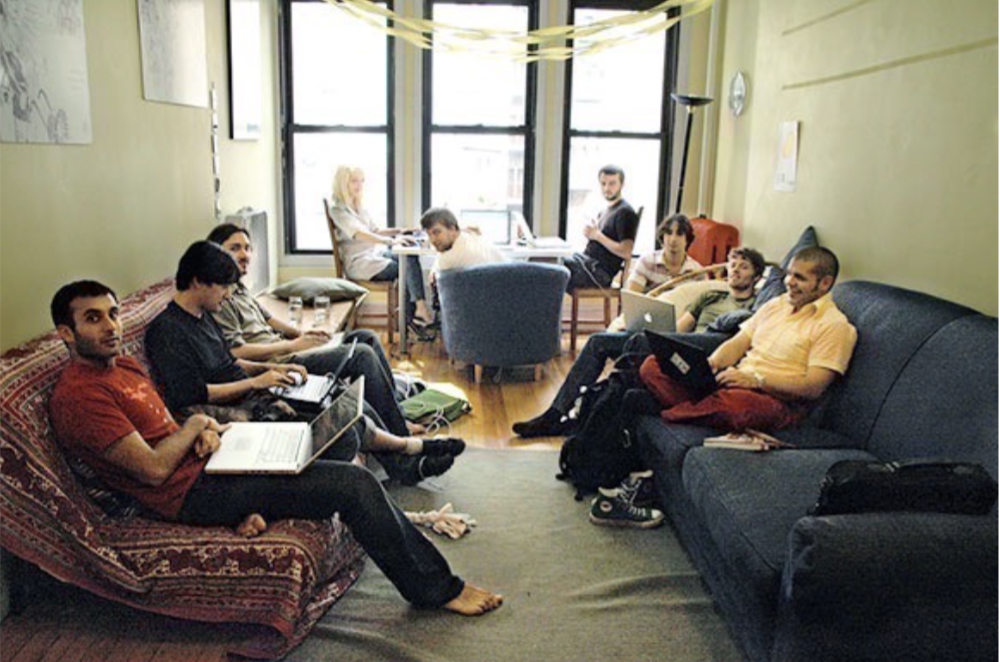 ---
Evalution of Coworking
Whilst the creation of a coworking environment differs in each of these stories, they were all trying to solve the same problems; the lack of physical proximity and social cooperation that existed only within the confines of a 9-5 office job.
As the concept of coworking has evolved over time, it has begun to form its own identity distinguishable from serviced offices. But the very nature of coworking, its flexibility, its adaptiveness, its hip audience, and its relative infancy means that individual workspaces are creating their own identities, goals and values. This makes reaching an all-encompassing definition of 'coworking' difficult.
Many draw on the community, collaboration and openness to derive definitions, others draw on the aesthetics, style and post-fordist layout of the space itself. Some academics have drawn similarities between coworking and the concept of open-source.
'co-working spaces reflect the collective-driven, networked approach of the open-source-idea translated into physical space' (Lange 2011:16)
Others extract its core traits to provide the definition
1. the co-localisation of various coworkers within the same work environment;
2. the presence of workers heterogeneous by occupation and/or sector in which they operate and/or organisational status and affiliation…
3. the presence (or not) of activities and tools designed to stimulate the emergence of relationships and collaboration among coworkers." (Parrino 2013:11)
Many definitions exist, each focusing on a slightly different theme, but it is clear that the term 'coworking' refers to much more than just a physical workspace; it is the combination of a collaborative community undertaking a variety of activities within a shared environment.
---
So what's next for coworking?
The number of shared workspaces worldwide is growing rapidly and is reported to reach 37,000 by 2018. There are over half a million coworkers, the majority of which are freelancers. Entrepreneurs with their own employees represent around a fifth of all coworkers.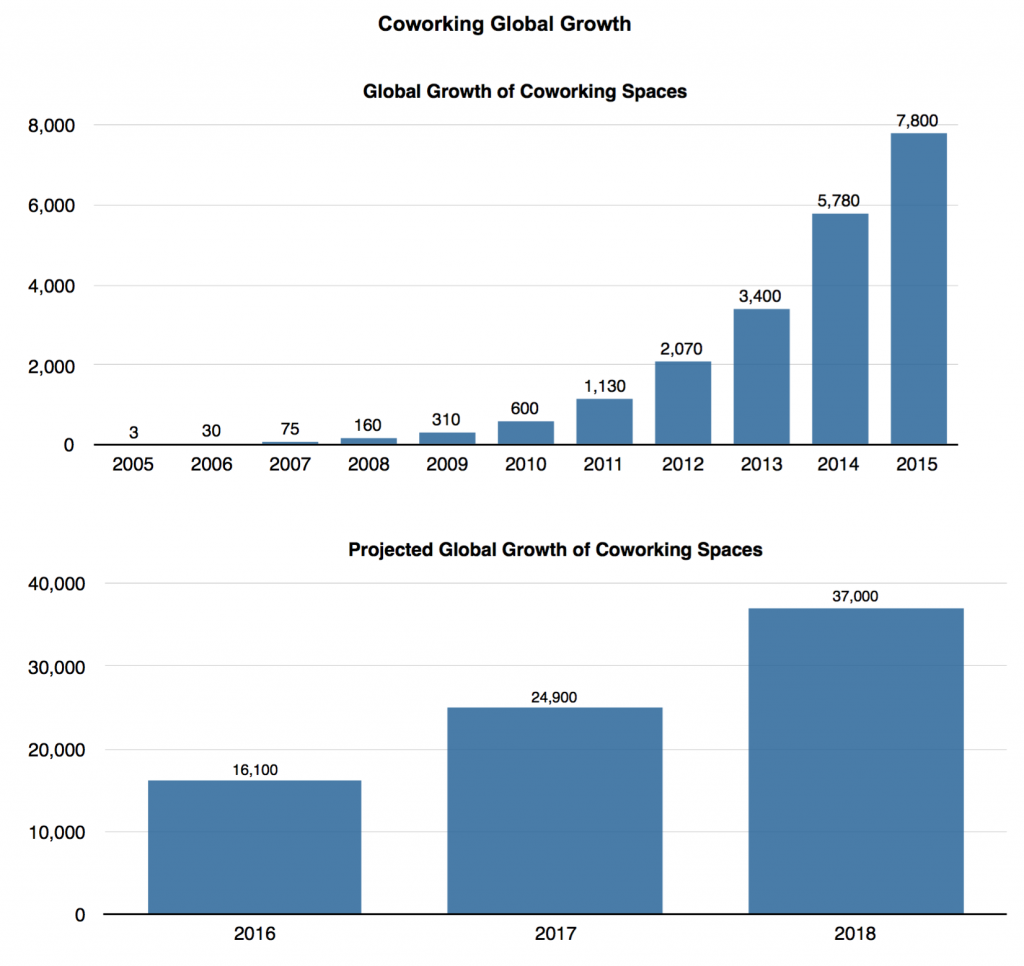 ---
Despite coworking originating in USA and UK, according to Google Trends, the majority of searches for 'coworking' come out of Spain, followed by Italy and Brazil. Barcelona and Valencia top the Spanish search traffic, perhaps explained by the Spanish economic crisis and high rate of youth unemployment over the previous few years.


---
Coworking and the Digital Nomad
As the younger generation in the Western World demands more and more flexibility in their lives, coupled with the desire to travel and work abroad, the so-called Digital Nomad, we can expect the coworking trend to become commonplace in cities worldwide.
---
Final Thoughts
Coworking is still a young phenomenon with a complex social foundation.
As more and more people turn to coworking to give them the flexibility and freedom they desire, we can expect physical workspaces to continue adapting, and the concept of coworking to evolve with its user's needs. Only once the industry has grown out of its infancy will we be able to distil the concept into a succinct set of principles and core values, allowing us to clearly define what coworking really is.
We would like to express our thanks to the authors of this paper Julian Waters-Lynch, Jason Potts, Tim Butcher, Jago Dodson and Joe Hurley. You can find their paper here