Jump to:
---
Creating an Account
Joining a workspace that uses Coherent is quick and simple
Signing up to a Workspace
First, you will need to find the workspace sign-up page.
There may be a link to the sign-up from the workspace website, but most hosts prefer to send private links to interested members. Request a link from your host if you are unsure.
The link will have the format: https://yourchosenworkspace.coherent.work
Tip: Bookmark this link for future quick access to your member dashboard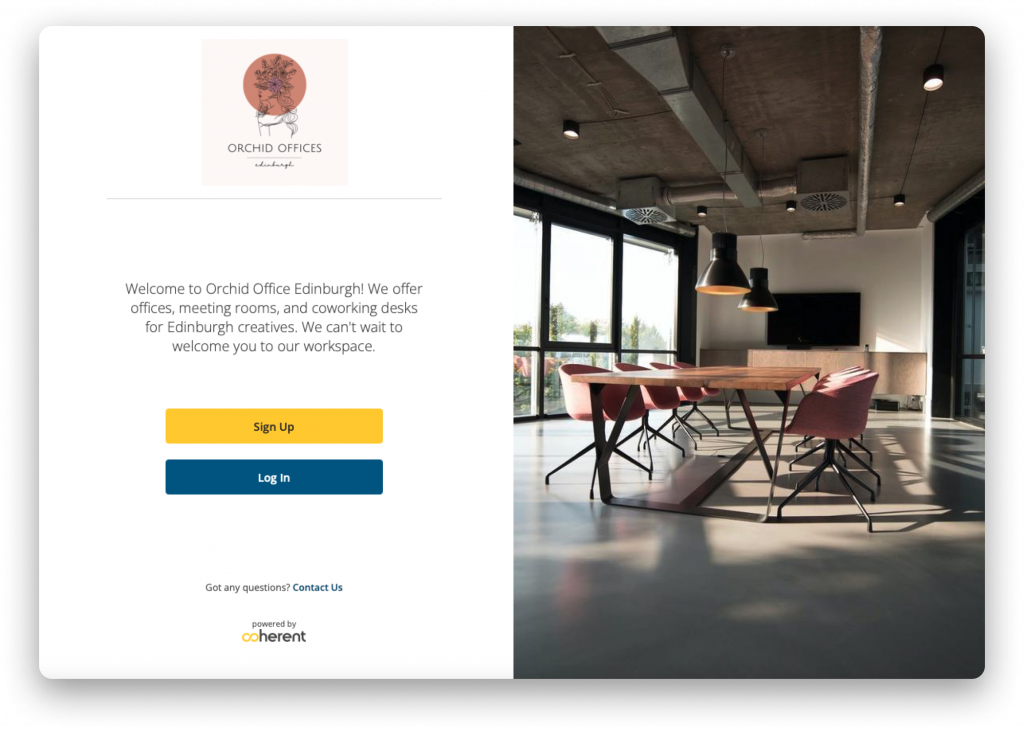 When you click the "Sign Up" link, Coherent will ask you to enter your email and choose a password for your account.
After this, you must choose an appropriate tariff and select your start date. If you have a unique code for a private agreement or discounted tariff, enter it in the box at the top of the page.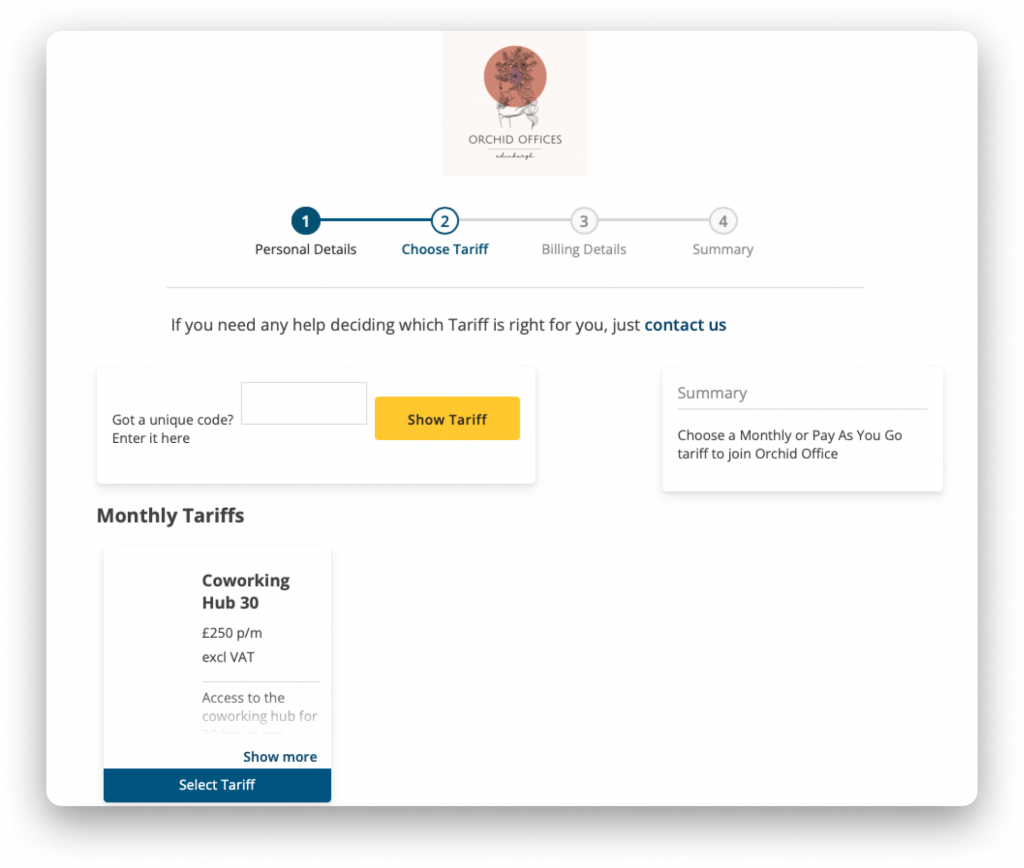 After selecting your Tariff, you will be asked for your billings details and set up a payment mandate with either GoCardless or Stripe (depending on your Workspace's preference for this Tariff).
This step ensures that you will never miss a payment, as the system will automatically collect invoice payments from you. Of course, you can view and dispute any invoices in your account.
Once you have set up your payment mandate, you are ready to go!
---
Your Dashboard
Your Dashboard provides a quick overview of your account
Your Dashboard at a Glance
When you log in to Coherent, you will land in your dashboard.
Your dashboard will display your upcoming bookings, future events, messages sent to you by your host and flag any issues with your membership.
The Dashboard is available on any mobile device, so you can check and make new bookings on the go, anytime, anywhere.
---
Your Membership
With Coherent you can manage your membership in a flash
Managing your Membership
Head to the Membership panel on the left-hand menu. In this section, you will find a range of information about your membership.
You should be able to see your start date, contract details, information about your current tariff, as well as your usage allowances which will update whenever you make a booking.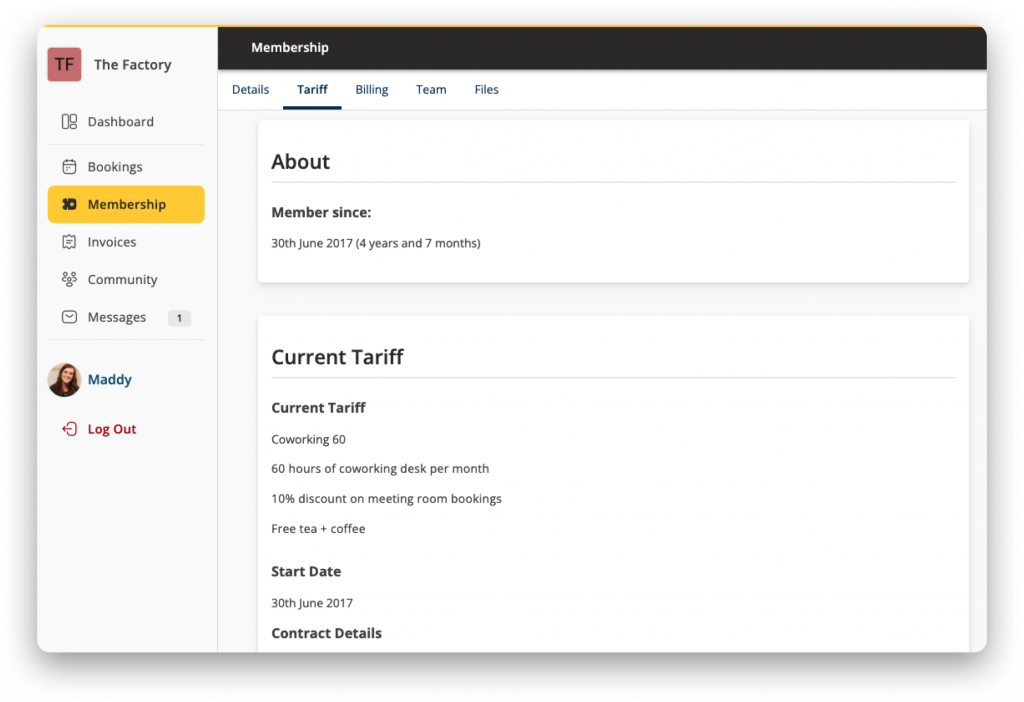 At the very bottom of this page, you will see the options to Change or Cancel your membership.
If you believe you need to upgrade or downgrade your membership, you can change your Tariff. We recommend discussing this with your host before making any changes.
Please use this page and go through the intended process if you must cancel your membership.
Please do not cancel your payment mandate without withdrawing your membership on Coherent first. Removing your payment details too early can cause a headache for your host as your membership is technically still ongoing, and Coherent will still generate invoices.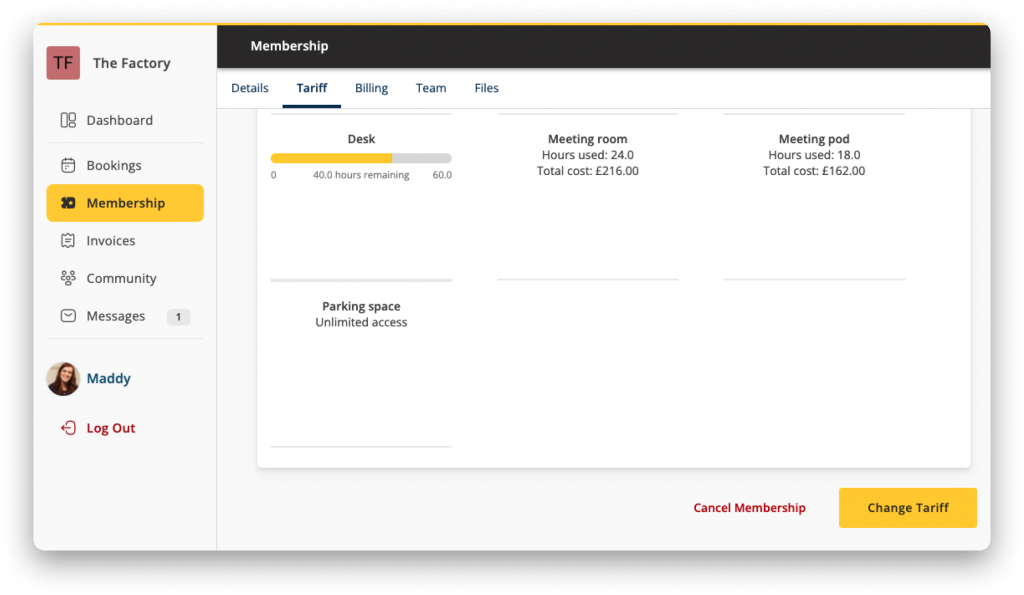 ---
Bookings
Book yourself into your workspace in a matter of minutes
Making a Booking – Monthly Tariff Members
The Coherent Booking process for members on a Monthly Tariff is super simple and convenient. Let's look at it step by step.
Head to the Bookings panel and click "New Booking"
Choose the resource you would like to book
Select a date from the calendar view
Select your time on the timeline or by using the drop down clock

If your desired time is unavailable it will be blocked out on the timeline

Decide whether you would like your booking to repeat weekly or monthly
Add any notes you would like your host to see
Press "Book" and let the system work its magic
Making a Booking – Pay As You Go
The booking process for PAYG members is similar to that for Monthly members.
There are slight differences, depending on your workspace preferences. You may be able to book certain resources by the day for a set price, also known as a Day Pass.
Cancelling Bookings
You are able to edit or cancel bookings in advance by heading to the Bookings panel. Select the date you wish to edit and review your options on the right side of the screen.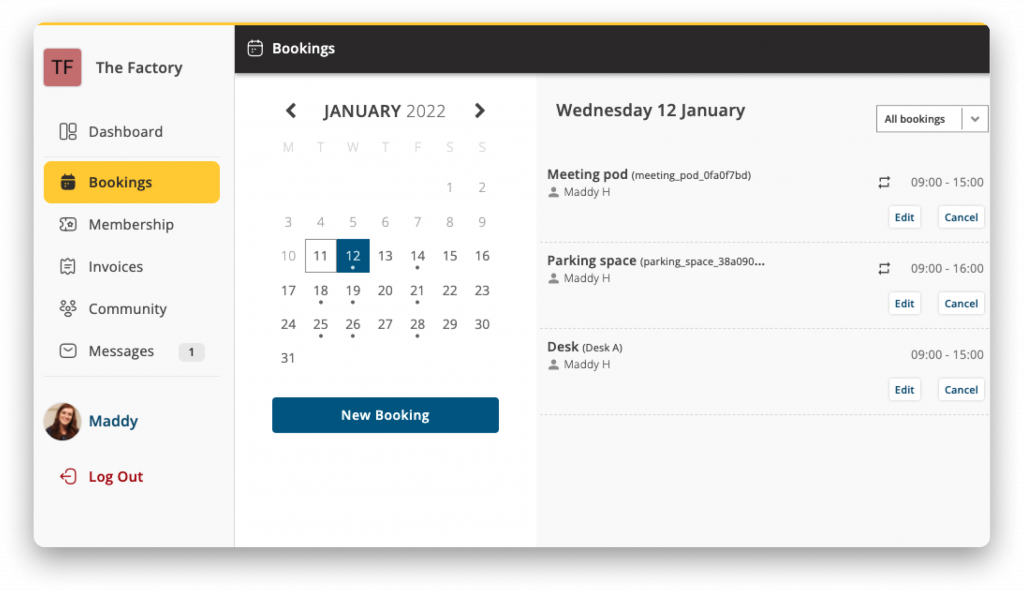 ---
Invoicing
Coherent securely stores your invoices in one place
Checking Invoices
Head to the Invoices panel, and you will be welcomed by a menu displaying your current invoices as well as your archived invoices.
Let's look at a current invoice first.
The key point here is the bookings charges. Any bookings you make outside of your membership allowances will automatically be added to your monthly invoice.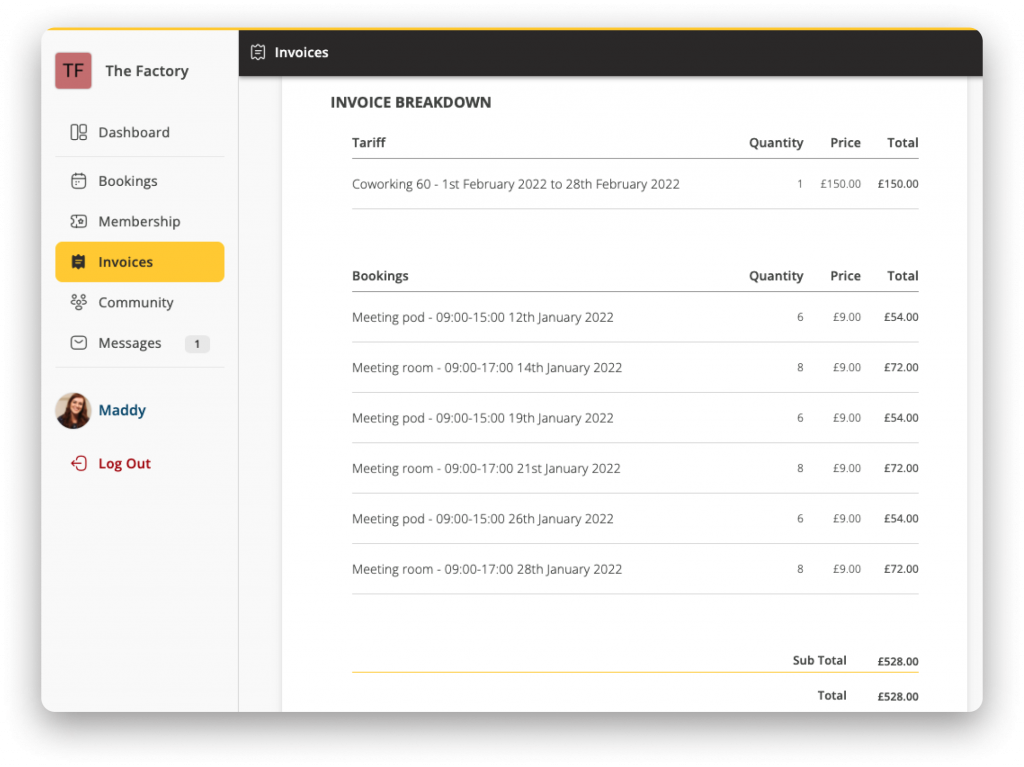 You can download and print out PDF copies of any invoice for your records. To do this, click "Download" in the top right.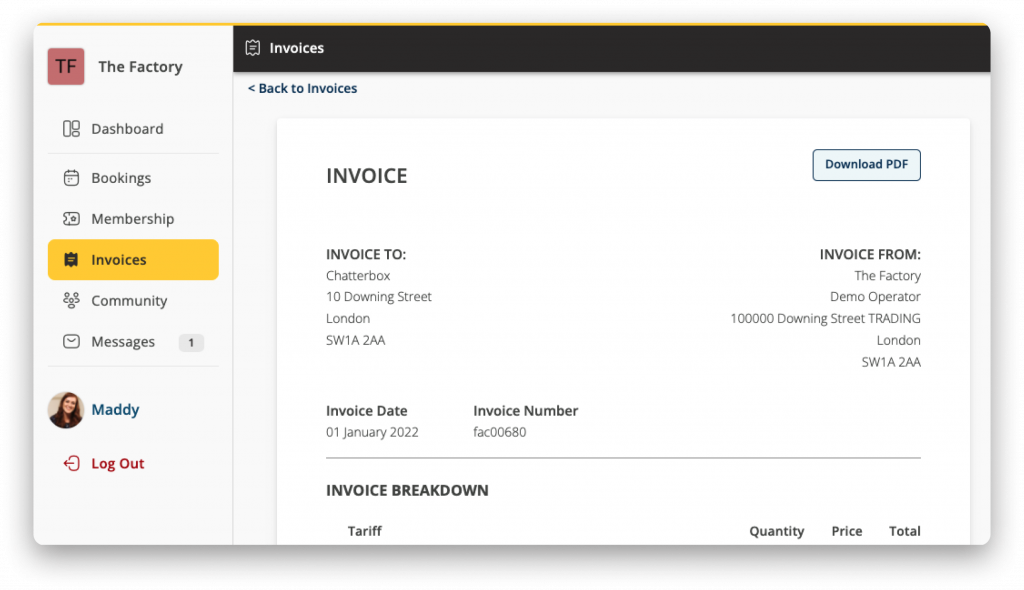 Monthly Invoices
Monthly members pay for their membership in advance.
The invoice these members pay on the 1st of each month includes the monthly membership fee.
Anything resource these members book over their resource allowance will be added to the following month's invoice.
Pay As You Go Invoices
PAYG invoices work differently from standard monthly invoices and will vary depending on the settings chosen by your host.
Invoices will either be created immediately when you make a booking or on the date your booking takes place.
Please check this with your host so you do not receive charges at unexpected times.
---
Joining the Community
Coherent comes with tools to help you meet the people around you
Using Community Tools
Click on the Community panel on the left-hand menu and you will be able to see the other companies that are operating in your coworking space. This is designed to increase collaboration.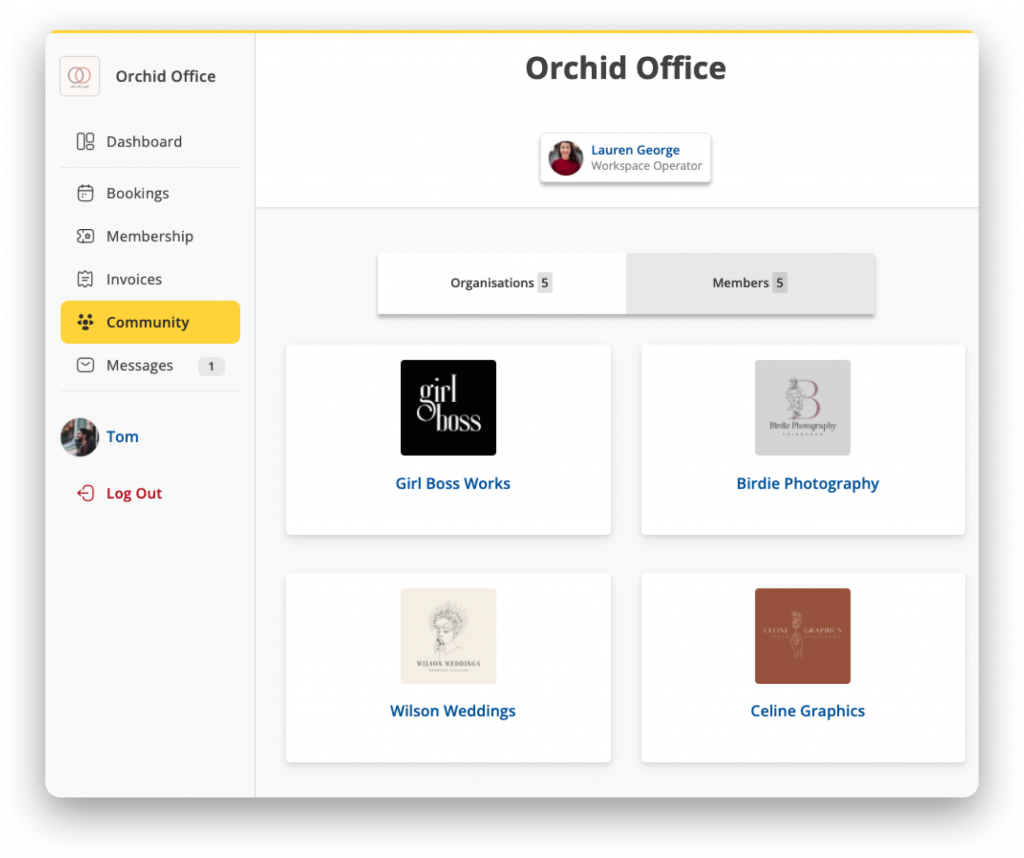 Below is an example of a profile that has been extensively filled out. As you can see, there are options to contact the company directly, visit their website or explore social media channels. You might choose to email them or ask your workspace host to give you an introduction.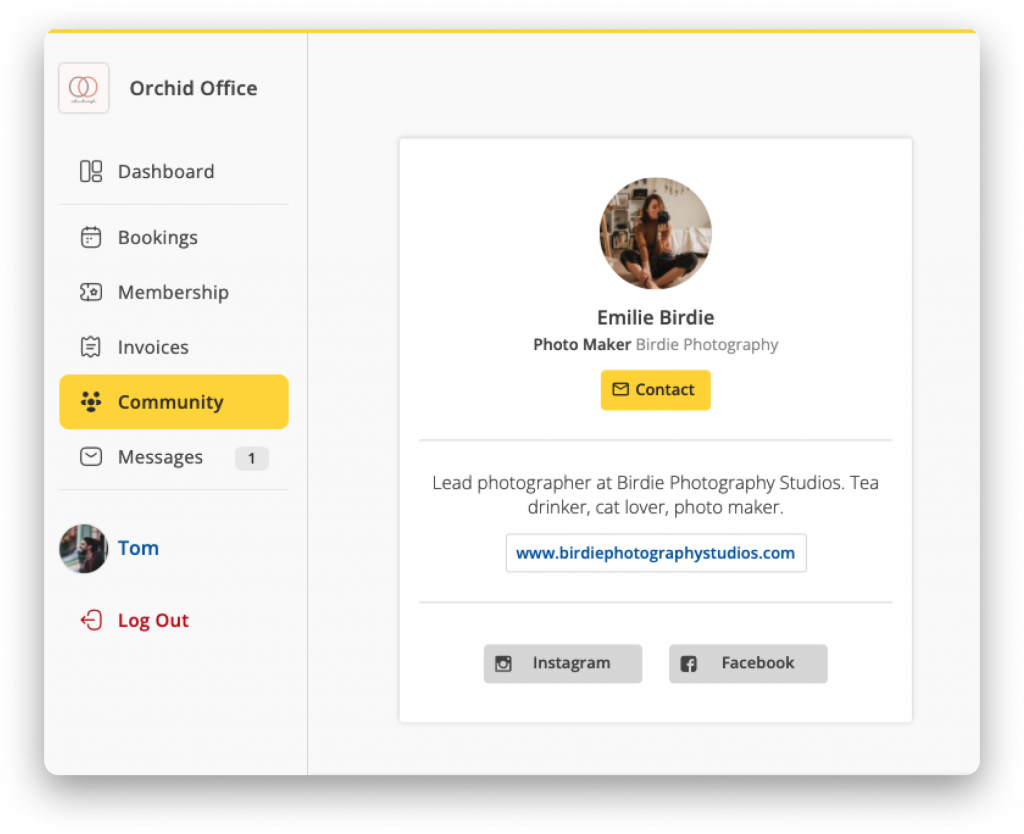 To maximise the information you provide to fellow community members, we recommend you visit the Organisation and Profile panels and build your community profile.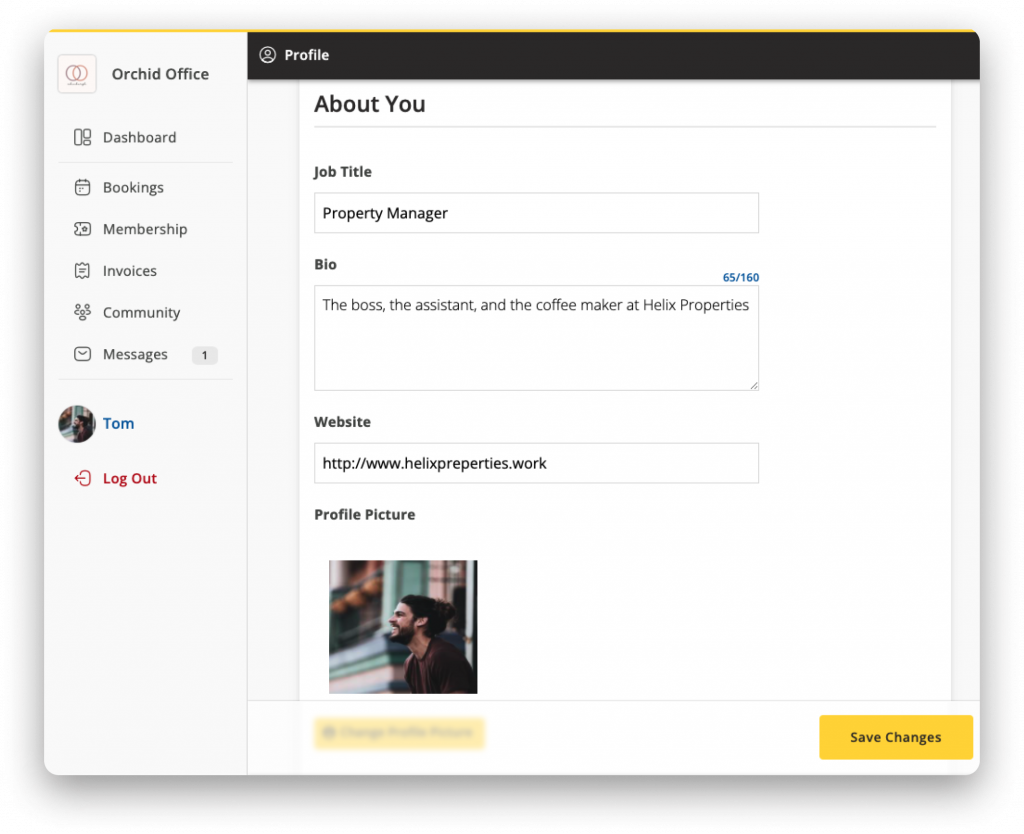 ---
Can find what you are looking for?
Please do not hesitate to reach out to your workspace host directly if you require any help with your membership.
---