Jump to:
---
Listing your Resources
Clarify the resources and services available to members of your workspace.
What is a Resource?
A resource is any item, space or service that can be booked via the shared calendar. For example, meeting rooms, coworking desks, storage lockers or a workshop.
Your resources can be booked on a Pay as You Go basis, or as part of a Monthly Tariff. We'll learn how to construct Tariffs later in the guide, but first, we must list our resources.
---
Listing Resources
In the Workspace Management Dashboard open the Resources panel and click "Add New Resource".
You will be asked to enter a Name, Description, Hourly Price and specify how many units of this resource are available.
Tip: When setting your resources make sure to think about how they will link to your memberships!
---
Setting Your Tariffs
Transform your Resources into Monthly and Pay as You Go Tariffs
What is a Tariff?
A Tariff monetises your resources by assigning them to a subscription plan.
Tariffs can either be Monthly or Pay as you Go. Monthly tariffs have a recurring cost, notice period and set allowances. Whereas PAYG members are charged only for the bookings they make.
Tariffs can also be public or hidden. This setting is designed for private agreements or discount codes.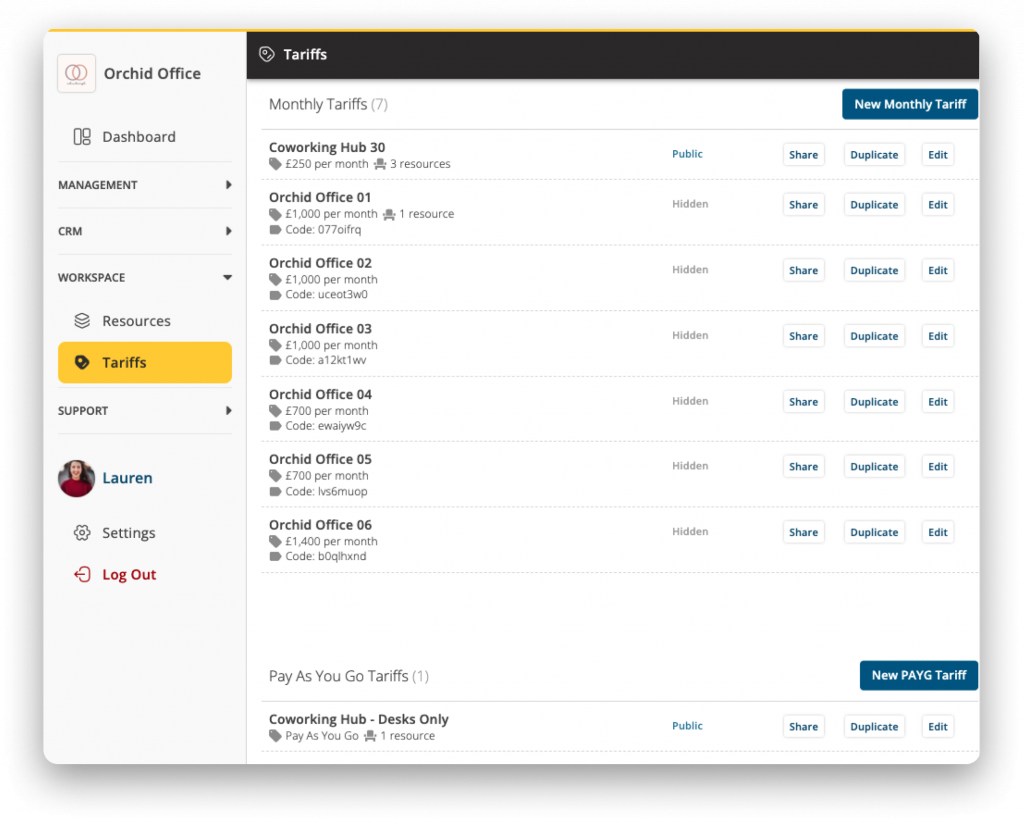 ---
Creating a Tariff
In the Workspace Dashboard, open the Tariffs panel and choose what type of Tariff you would like to create.
First, you will to be asked to choose a name and set a description. Descriptions are important as they will be visible to members during the sign up stage.
Decide whether it will be Public or Hidden. Set your monthly rate. Set your notice period and choose whether you'd like to apply a minimum contract length.
Next up, set the availability of the membership, this is perfect if some of your memberships are 24/7, but others are limited. Upload any T&Cs if you have them in place.
Finally, we need to assign our Resources to the tariff. This is your opportunity to decide if members will have shared or dedicated access. Shared meaning they have to book and it is subject to availability. Dedicated meaning the resource is exclusively theirs.
You can also allocate monthly allowances, they will automatically be charged the hourly resource rate if they go over this allowance.
Hit 'Save' and you are good to go!
Repeat this process to create a tariff for every membership plan your workspace offers.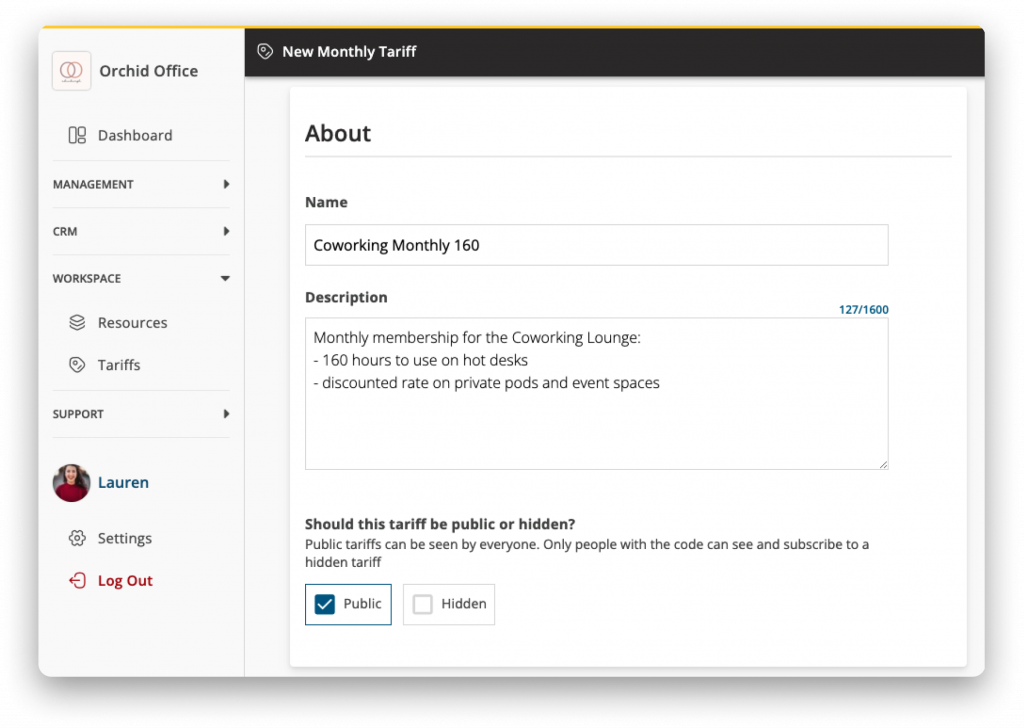 ---
Please do not hesitate to reach out to us if you require any help setting up your workspace Resources and Tariffs.
---
Frequently Asked Questions
What is the best way to offer Virtual Mailboxes in my workspace?

How do I create different tariffs in Coherent?

How do I remove a tariff from Coherent?

How do I set access restrictions on a tariff?

Can I generate discount codes for discounts for my tariffs?

Can I integrate tariffs onto my workspace website?

My PAYG tariff isn't letting me book Sundays, is there a reason for that?
---