Over the last few weeks, our team have been busy working on updates and feature requests from our operators.
Read on to find out more about the workspace management features we released throughout July.
If you have any questions or feedback about this update, please do not hesitate to reach out to us.
What's New for July?
Improved Membership Onboarding Process
We have also made changes to the member onboarding process. This upgrade aims to help our operators provide a more streamlined experience for their members. When a new workspace member signs up, Coherent will direct them to the workspace's dedicated welcome landing page.
This new onboarding method will allow members to review the workspace tariffs to sign up for the appropriate membership for them. A workspace can find its unique signup link on the About Workspace Settings page of the operators' dashboard.
User Experience Upgrade
We are always looking for ways to improve our user experience so that our operators and their members can move around our app more easily. Over the last few weeks, we have worked on updating the layout of our pages and made adjustments to the overall designs to make it easier to navigate between tabs on our app.
See this new update in action on our settings pages and organisations' profiles with the operator CRM.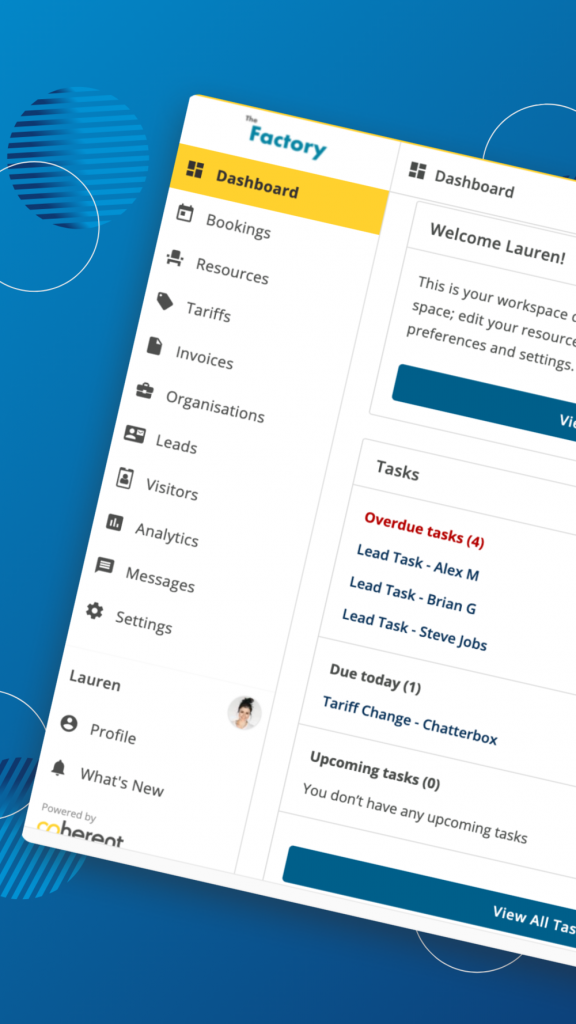 Improved Modal Performance
We have been working to improve our modals throughout our app. This new design enhances the modal functionality while also enhancing our operators' overall user experience.
Tariff Selection
We have also revisited how our operators work with tariffs within the Coherent app. When moving between tariff creation, alteration, and cancellations, we've improved the workflow so that invoices generate more accurately to run in line with the appropriate action.
This update allows workspace operators to streamline their admin process while keeping all relevant information and charges up to update.
Coherent Community Basework
We've also laid some backend groundwork for our community feature ahead of future release plans. These upgrades intend to improve this feature's performance and functionality and provide new ways for our operators and their members to connect.
Keep an eye out for more information on plans for this feature later in the year.
Bug Fixes
We recently identified and resolved an issue found within our messaging feature affecting the format of emails. Our messaging feature is back up and working to standard.
What's on the Horizon?
We are moving into the next phase of our integration with Stripe, where our Beta Users will be testing it in their spaces soon.
Work is underway to bring our operators a new way to manage lead enquires for their workspace.
Our reoccurring charges page will soon receive a redesign to make it even easier for our operators to read and navigate.
We are in the process of introducing a better way to manage files within Coherent, where we will soon release improvements to the delivery of T&Cs between workspaces and members.
And last but not least, we are working on some valuable customer feedback and introducing more ways to manage bookings within a workspace.
---
If you have any questions or feedback about this update, please do not hesitate to reach out to us.
👉 hello@coherent.work ⁠⁠
If you would like to learn more about each of our features and see Coherent in action for yourself, book a free demo today.
Or you can Sign up for free and get started straight away.