How to Successfully Manage Coworking Space Memberships
Features
Running a coworking space can be challenging. You find yourself manically moving from task to task, all sense of control out of the window, and managing memberships is no exception.
Manually keeping track of members' start dates, notice periods, and contract lengths can be an administrative nightmare.
A calendar full of 'Michael Scott starting' and 'Final day for Pepper Potts' events combined with a to-do list full of 'Renew Tim Cook's contract' and 'delay Jessica Pearson's start date' can be a tricky thing to control and keep up to date.
The solution? Automate as much admin work as possible so that you can focus on the all-important human element. Using workspace management software can help with this, and here's how…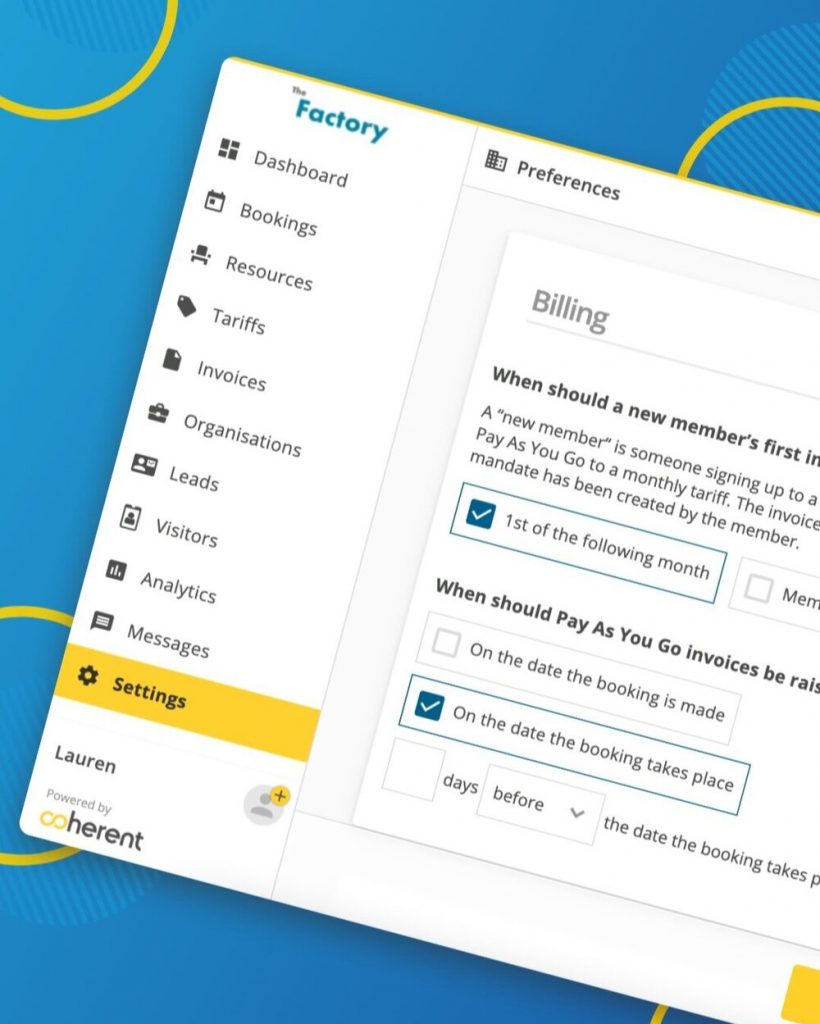 A workspace management software tool can help you to successfully manage your memberships by storing all of these important dates, keeping them up to date if anything changes, and executing tasks like switching tariffs for you automatically.
Utilising an admin support tool means you can offer more flexibility for your members by allowing them to sign up in the middle of a month, as soon as you have availability, without needing to worry about when to issue their first invoice and how much to charge them.
Allowing members to unsubscribe mid-month can also be a nice touch; only charging the member for the time they need rather than forcing them to pay for an entire month. These flexibilities aren't an issue when all of these dates and actions are stored and managed for you.
You may, however, prefer to know that all new members start at the beginning of the month, and all leaving members finish at the end of the month. Working this way can make it easier for you to visualise how your occupancy might change over the new few months and make it easier to arrange start dates for new members.
Whilst Coherent is built with flexibility in mind – allowing members to join and leave in the middle of the month – it also has a few features that will enable you to wrap your memberships neatly around a whole calendar month.
Start dates on 1st of the month
By default, members can join your workspace on any day of the month, but Coherent gives you the ability to force all new memberships to start on the 1st of a month. Meaning, members can still sign up whenever they're ready, but their membership won't begin until the 1st of the following month.
Their initial invoice will be raised on the 1st and will charge them for the full month, so no need to worry about any prorated charges or allowances confusing new members.
The first invoice raised on the 1st of the month
Alternatively, if you want to give members flexibility by allowing them to join on any day of the month, but you still wanted your accounting to be neat and tidy, you can choose for the invoice to be raised on the 1st of the month following their start date.
In practice, this means that a member could sign up and start their membership on the 20th of May but still receive their first invoice on the 1st of June, charging them for 11 days of May and the whole of June.
Ending memberships at the end of the month
If you've decided to keep things organised around the beginning of a month, it makes sense to manage things around the end of the month too.
When you set up tariffs in Coherent, you'll decide what the notice period is for that tariff, ranging from 1-6 months. You can also choose to extend the notice period to the end of the month. Meaning, a member with a one month notice period, who unsubscribes on the 20th of May, will have their final date set to the 30th of June rather than the 20th of June.
Use this in conjunction with the start date controls above, and you can make sure that your offices, desks or studios become available at the end of the month and can be immediately occupied again at the beginning of the following month.
---
Final thoughts
You can independently control all of the features mentioned above. So whether you want a fully flexible setup that leaves your members in control of their contract dates, a more organised structure that supports you to visualise your occupancy better, or a mixture of the two, Coherent has you covered.
You can find all of the settings to activate these features through your Coherent workspace dashboard settings.
Not part of the Coherent family yet?
Or book a free demo to see Coherent in action for yourself before you join.