Coherent is now integrated with Zapier
As an existing business, we know that you're probably already using various products for accounting, scheduling, marketing, etc. We don't want you to change your workflow just to use Coherent fundamentally.
So we've integrated with Zapier to allow you to connect Coherent to the products you're already using – Google Calendar, Xero, Salesforce, Slack, and over 1300 more.
Read on to find out more about our latest integration with Zapier.
---
We've set up 'triggers' in Coherent for things like 'New invoice created', 'New member signup' and 'New booking created', and with these triggers, you can decide what you want to do with them.
You could create a 'zap' that adds new bookings into your Google calendar or sends new invoices straight to Xero. We've created a few templates for you to switch them on with ease.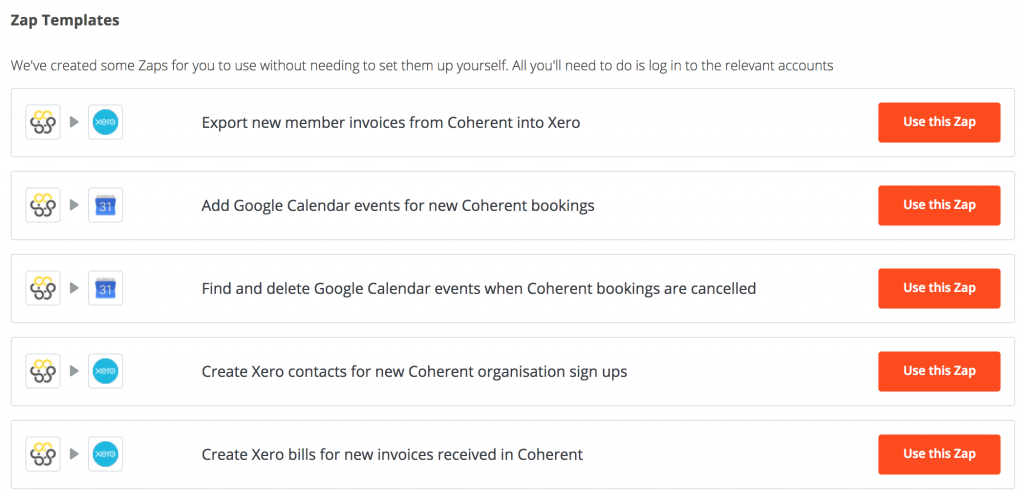 Zaps are unique per user, so you could have one member of staff that receives a text message whenever a new member signs up, but another could send that new member data to their CRM system.
To get started with Zapier and Coherent, go to the 'Integrations' tab from your Coherent workspace dashboard and follow the instructions.
---
Final Thoughts
We hope you enjoy our latest integration with Zapier! If you have any questions or feedback about this update, please do not hesitate to Contact Us – at support@coherent.work