Coherent Deep Dive: Automated Invoicing for your Coworking Space
Features
As a workspace operator, raising, collecting and sometimes chasing payments can be time-consuming.
We know first-hand how frustrating and overwhelming invoice admin can become. That's why, in the beginning, we invested significant effort into our automated invoicing feature to support and allow a more streamlined approach to our workspace admin.
When it comes to automating your invoices, Coherent possesses the power to transform the way you work, meaning you can focus on what's important to you – improving your workspace, engaging with your community, nurturing new members. Here's how to automate invoices for your coworking space.
---
Automated Invoicing
Automated invoicing is a payment creation and collection system that enables a more streamlined admin experience for workspace operators and members.
If you have a small workspace with few resources, manually creating and raising invoices might not seem to be too much hassle. However, if you have an ample workspace, are strapped for time, or have lots of members and resources, manually cross-referencing invoices with bookings, for different members, across various tariffs can soon get out of hand and be overwhelming.
Automated invoicing removes the need to handle invoices for your entire workspace manually.
Coherent's Automated Invoicing System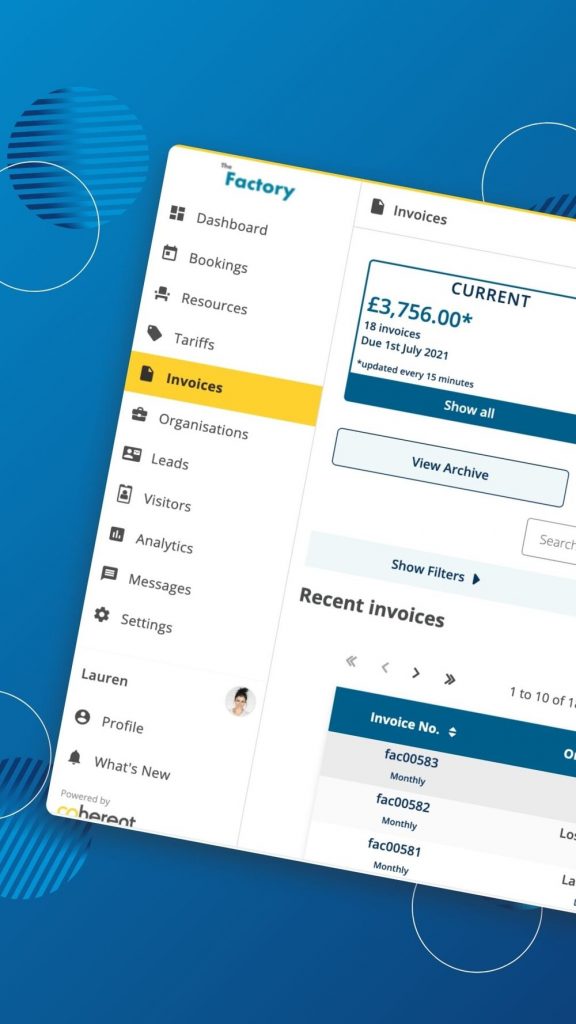 Coherent creates invoices for all members and automatically issues statements to members when they are due to be collected. Coherent then automatically accumulates and processes payments from members and deposits the funds into the operator's bank account.
Coherent has the power to track member details, their assigned tariff, the resources they have used throughout the billing month, and what discounts they are entitled to use as part of their membership. Keeping track of this information enables Coherent to accurately issue invoices to members as set out in the workspace preference.
Coherent will raise invoices for members on monthly tariffs on the 1st of each month. This payment covers the membership price for the month commencing and any chargeable bookings from the month previous.
For new monthly tariff members, workspace operators can decide whether the new member's first invoice should be issued the day they sign up or on the first of the following month. If they opt for the latter, the invoice will consist of two payments – the starting month in arrears and the tariff fee for the commencing month.
For example – if a new member joins on April 9th and the host decides to raise the invoice on May 1st, the member will pay for 9th – 30th April and May 1st – 31st in one payment. The invoice will also include any additional resources used throughout the April period.
After an invoice has been raised, workspace hosts and members have two working days to review the invoices to ensure they are correct before payment is collected. Hosts can edit and adjust invoices at this stage before submitting them back into the payment collection system.
After the two working day period, GoCardless automatically collects payments through direct debit, deducts Coherent's 1% fee, and then deposits remaining funds into the workspace's account. This whole process takes around five working days from the moment Coherent raises the initial invoice.
Payment options for members on Pay-As-You-Go tariffs are flexible to suit each workspace's preferences. Hosts can choose when to receive payment from PAYG members; at the time of booking, on the day the booking takes place, or on a set period before or after the booking is due to take place. Most commonly, workspaces opt for Coherent to raise invoices 2-3 days before the booking is scheduled to occur.
Popular Questions
Q: Can an invoice fail?
A: Yes, an invoice can fail when a member has insufficient funds available in their bank account or their bank details are incomplete or incorrect at the time of payment collections.
To combat this, workspace operators will receive notification in advance to highlight any missing bank details of members 3-4 days before the system attempts to collect payment. Hosts will also receive a round-up of any failed invoices after the payment collection period.
Furthermore, with Coherent, hosts can quickly see failed invoices through their dashboard, and along with the reason for the invoice failing. Allowing them to source the problem and be able to resolve the issue promptly.
Q: Can a workspace cancel an invoice?
A: Yes, hosts can cancel invoices as required.
Q: Do members receive email notifications regarding their invoices?
A: Yes, members will receive an email notification every time Coherent raises a new invoice. They can view the invoice within the email, see the payment breakdown and the date their invoice is due.
Members can view their invoices from their Coherent dashboard, along with the status of any other invoices attached to their membership.
What's more, invoices are available in PDF format so members can download them with ease or forward them to their accountant where applicable.
Q: How long are invoices stored in Coherent?
A: Coherent stores invoices indefinitely, allowing members and hosts to have continuous access to the relevant invoices. Invoice archives are easily accessible through the Coherent dashboard.
Furthermore, where invoice records can become quite substantial, Coherent's search functionality supports hosts and members to seek and source specific invoices as required.
Q: Can manual charges be added to invoices?
A: Yes, with Coherent, hosts can add manual charges to invoices when applicable. Hosts may wish to include additional costs to a member's invoice for a single service or order—for example – a one-off cleaning service or single use of car parking space.
What's more, hosts can set one-off manual charges to become a reoccurring charge on a members invoice. Reoccurring costs are beneficial for services a workspace provides, which don't fall under the category of 'resources'.
Final Thoughts
From experience, we know the hassle and headache of manually creating and chasing invoices. That is why we created automated invoicing to make your life easier. Spend more time doing what matters most to you and let Coherent do the heavy lifting for you.
Are you ready to say hello to pain-free invoicing? Sign-up free and start using Coherent today. What's more, you don't need to pay until you have your first paying member! 
Not quite sure? See Coherent in action for yourself. Book a free, no-obligation demo with our Product Manager, Alex, who will be happy to help and answer any questions you may have.