Quarter one has been full steam ahead here at Coherent. In the last quarter, we've released many new features that we are excited to share with you. We've released some vast improvements to our Lead Management system, our integrations pages and added a brand new Task Management section to operator's dashboards.
In the next quarter, we look forward to releasing our Stripe integration along with improvements to our File Management and our CRM system.
Read on to find out more details about each of our releases and updates for quarter one.
---
Jump to:
New Releases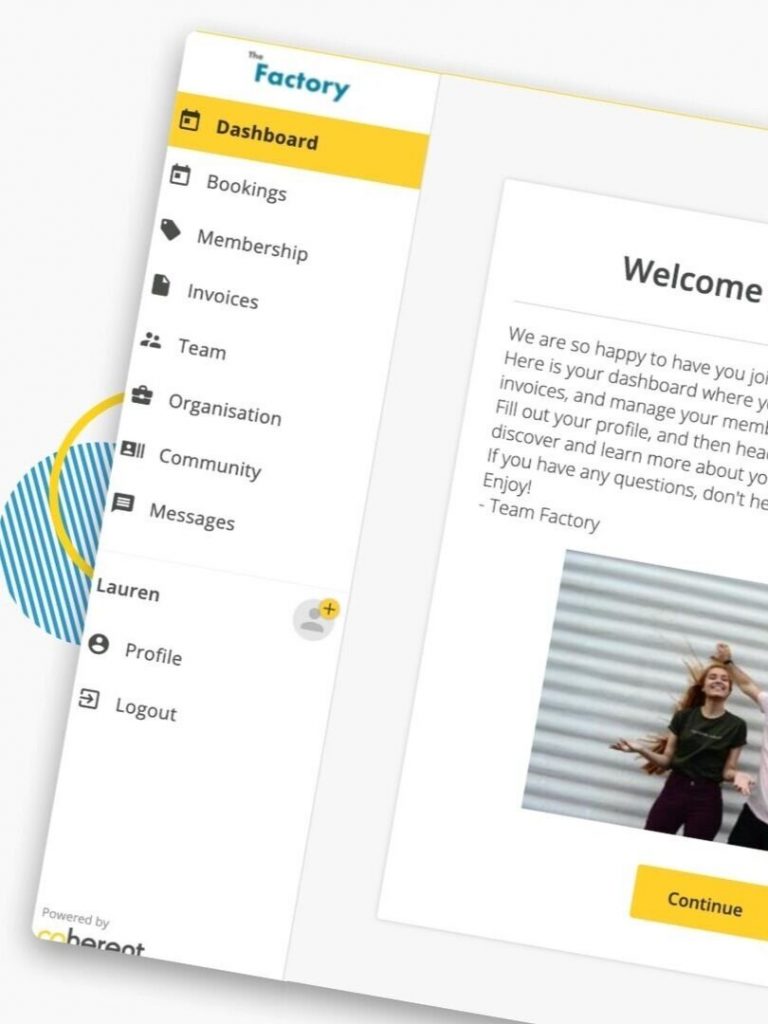 Deposits for Monthly Tariff Members
We have introduced deposits on monthly tariffs, so you can now easily collect deposits for resources, such as studios and offices, keep track of how many deposits you're holding, and quickly refund them when a member eventually leaves the workspace.
Workspace Creation Form
When an operator signs up to Coherent, the process of adding and setting up their workspace is now even more straightforward. We've redesigned our onboarding process to make it quicker and easier for operators to start using Coherent as quickly as possible.
This release is also great for operators who decide to open any additional workspaces. You can simply and easily add a new workspace through your operator dashboard whenever you would like.
Personalised Welcome Message
Your welcome message is now customisable! You can now write your own message and add a photo for new members to see when they sign up.
Redesigns
Leads Page Redesign
We've entirely redesigned the leads page so you can see all your prospective members at a glance more easily. Our new display is customisable with our added search and filter functionality, so you can quickly search for needed lead details such as phone numbers, email addresses, desired start dates. You can also include which resource your prospect member is looking to gain access to, such as studio space, so you know who to contact when the particular resource becomes available. We've also added in the ability to track task due dates so you can keep up to date with potential members for your workspace.
We have redesigned some landing pages in our Leads section to make it easier for our operators to create and edit leads.
Redesigned Integration Pages
Our integration pages have also received a redesign to make it easier for workspaces to get set up with their favourite apps. The integration setup process is now more precise, straightforward and enables you to get connected quicker. We've also made it clearer to see which integrations our software supports and provide a better understanding of each integration's benefits so you can choose the right apps for you and your workspace.
We've also updated our Eventbrite integration to make sure members can see all the essential event information at a glance.
Task Page Revamp
To improve your host's workflow, we've redesigned our 'Alerts' page into a 'Tasks' page.⁠ This update enables hosts to have a more precise overview of workspace tasks along with their due dates.⁠ Coherent automatically creates jobs for workspace hosts based on member events such as lead follow-ups, cancelled bookings, and any other membership details that need attention.
Along with upcoming tasks, hosts will now also receive a reminder one month before member contracts are due to expire, to allow them ample time to take action. You'll find this new update on your workspace dashboard.⁠
Upgrades
Updated Text Style for URLs
We've updated URLs' style throughout Coherent, so it is now more accessible to source and share them with your members. This unique text style is handy when administering individual tariff links with joining members, saving you time and improving your workspace onboarding process.
We've also updated our UI for when sharing a tariff to explain better how it works.
Improved Invoice Search Functionality
The Invoices page in the Operator dashboard has had a redesign, and we've added a search bar so you can more easily find which Coherent fees correspond to which member invoices. We've also improved how invoices are displayed in the workspace dashboard.
Improvements to the search and filter functionality have been made, so more results are shown, allowing hosts to have more control over their invoice vault.
Our invoices page now also shows your most recently issued invoices by default, so you've got a better overview of what payments to expect.
Improved Accessibility
We're currently in the middle of updating our interface, with particular attention being given to our colour palette. We want to ensure the colours we're using throughout Coherent are accessible for people with visual impairments. This is a vast ongoing project, but we've just released our first batch of revisions – watch out for more on this soon!
What's on the Horizon?
External Lead Forms
We are working to create a Register your Interest form, which workspaces can embed on their website for prospective members. Once completed, the data entered into the form will connect to create a new lead within Coherent's CRM. This update is just another way for workspaces to track and stay on top of all lead journeys with Coherent.
Updated Workspace Preferences
We're updating our Workspace Preference settings to allow operators to have more control over their workspace by enabling hosts to decide when memberships shall commence. Soon they'll be able to restrict start dates to the 1st of the month or let new members choose their start date. Further to this update, when past members request to resubscribe to a workspace, they'll be able to choose their start date.
Stripe Integration
Our launch with Stripe is into its second round of testing. With positive results, we hope to have this up and running with our Beta Testers soon.
---
Final Thoughts
If you have any questions about our Q1 update, don't hesitate to reach out to us. ⁠Drop us a comment, message or shoot us an email. ⁠
👉 hello@coherent.work ⁠
We are always happy to help and hope you enjoy this update. ⁠