What's New with Coherent? November 2017
What's New
You can now add T&Cs to your Tariffs
Adding T&Cs to Coherent was one of our most requested features, so we're delighted to say that it's now live!
You can add T&Cs in 'Workspace' that every member will have to agree to when they sign up, no matter which tariff they choose. You can also add T&Cs to each tariff individually on the 'edit tariff' page. Tariff T&Cs trump Workspace T&Cs, so if a member joins a tariff with its own T&Cs, they'll only have to accept those and not the workspace ones.
You can update or remove T&Cs whenever you want, and your members will be notified accordingly. Likewise, if they switch to a new tariff with a different set of T&Cs, they'll be prompted to accept the new ones.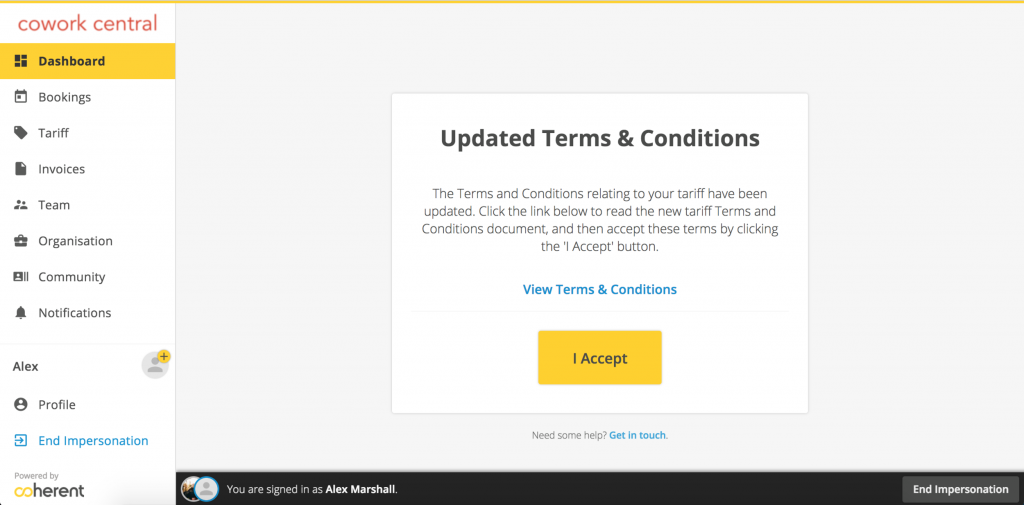 The next evolution of this feature will be allowing you to upload documents like Lease Agreements, which your members will be able to e-sign when they sign up. We've got a few more things to build before we get on to this, though.
We've also made it possible for PAYG members to access Profile and Organisation.
This means that if you impersonate a PAYG user, you can now see their company details and contact information. 
We fixed a minor bug around backdating start dates and tidied up some of our code. 
We're now starting to improve our Mailchimp integration to make it even more helpful for you, changing how VAT is managed and displayed on invoices and completely re-working our sign up processes.
---
Final Thoughts
We hope you enjoy this feature release! If you have any questions or feedback, please let us know! We are just a click away at support@coherent.work
Until next time, have a great month!