Here's what we've been up to in 2018
It's been a little while since our last blog post but the good news is we've been hard at work building new features and improving our existing ones based heavily on user feedback.
Here's a look at some of the things we've been doing over the past 6 months:
---
Opening Times
You can now choose the exact days that you're coworking space is open, as well as set unique opening hours for each day. We saw more and more coworking spaces offering 24/7 access, at least to some of their members, so it's now possible to set this up in Coherent. We also now display the opening hours more clearly to members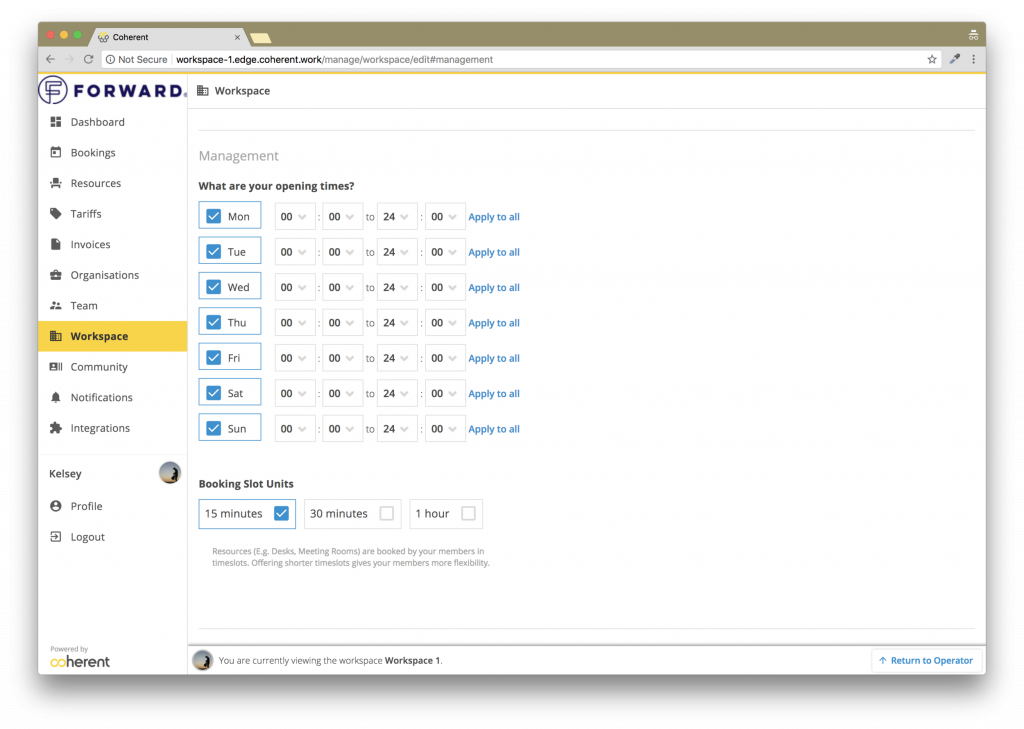 ---
VAT
Previously you would choose if you were or weren't VAT registered, and if you were, it would apply a standard 20% rate to all charges on all invoices.
Now on top of this, you can choose a different VAT rate for each of your tariffs, and a different VAT rate for each resource booking. You can even override the VAT rate on each invoice line item, giving you the maximum control over how you charge VAT
---
Onboarding
Bit by bit we're overhauling our signup flows for both new Workspace Operators and new Members. We've removed a lot of the less-necessary fields, shortened the pages, removed a lot of our branding, added more of your branding, made helper texts more useful and re-arranged pages so they flow better.
The latest update was a complete redesign of your landing page.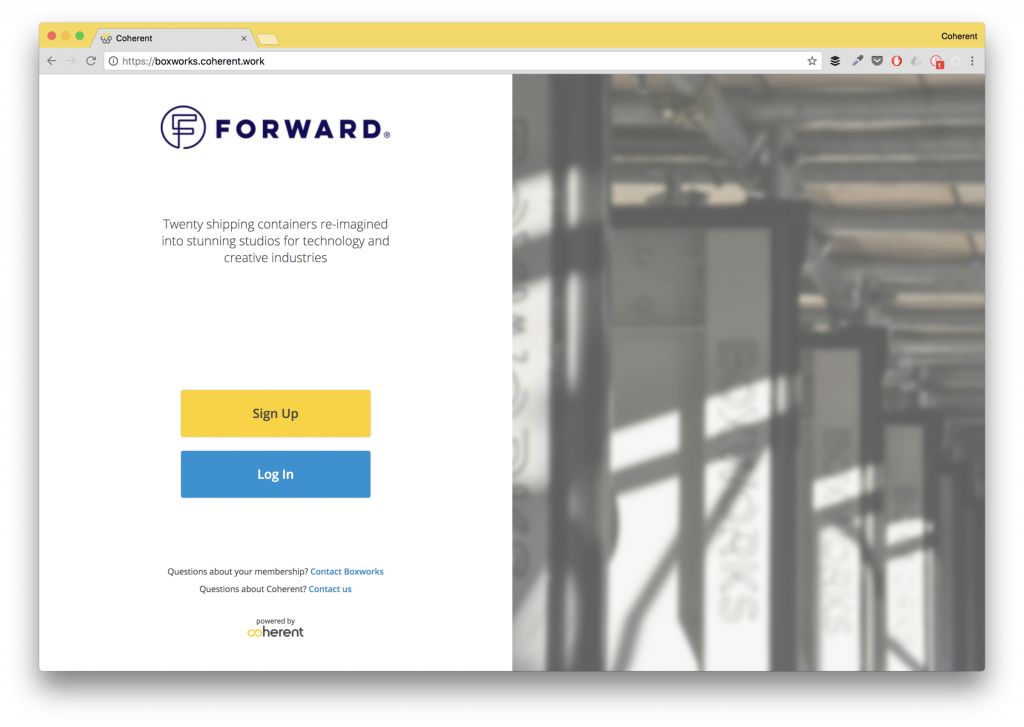 ---
Choose Unsubscribe Date
We added the ability for you to set custom notice periods for each of your tariffs quite a while ago, but we were still getting a lot of requests to override a member's notice period because they'd accidentally unsubscribed a day late and didn't want to be charged for another month.
Well, now you're able to choose the exact final date of a member once they've chosen to unsubscribe. You'll receive an alert in your dashboard to let you know what their unsubscribe date will be, and you can then either confirm it or amend it.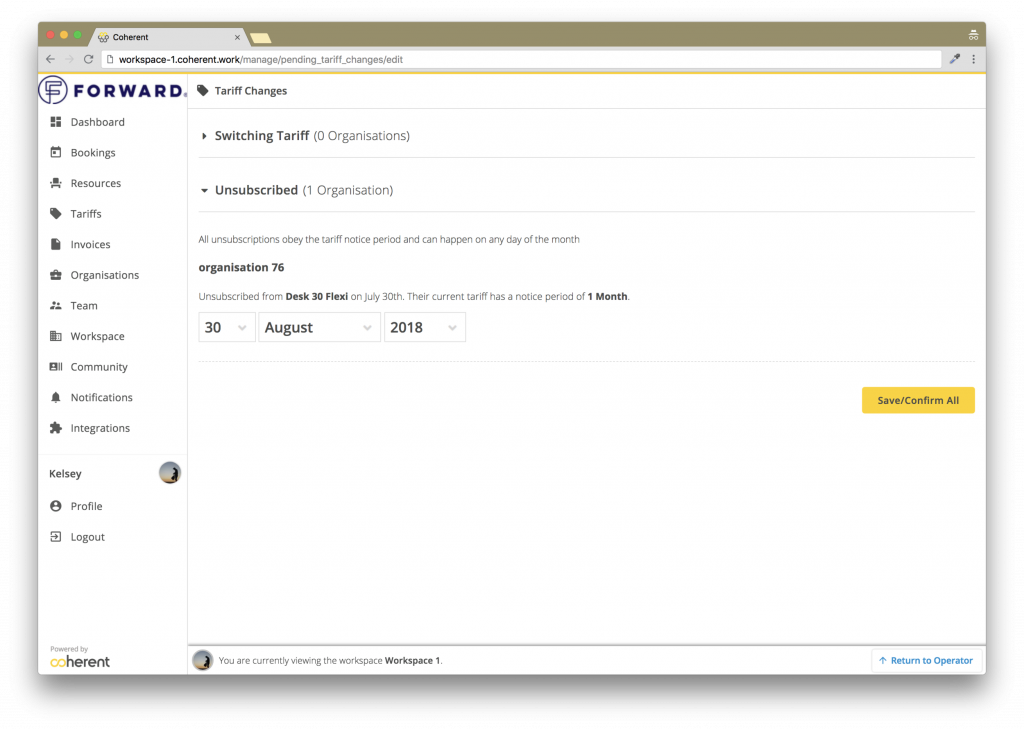 ---
Unique Tariff Share Links
We're due to release this feature imminently – it allows you to create a unique sign up links for each of your tariffs. When a visitor clicks on one of those links to sign up, that tariff will automatically be selected for them. This makes it easier for you to promote your tariffs on social media, and to link them to your website
---
Access Control
We've partnered with Salto to bring Access Control to Coherent. This will allow your members to enter your coworking space, their offices and meeting rooms using their smartphone or a key fob.
Access will be given automatically based on the tariff that a member signs up to. You'll set the rules for which areas of the building a specific tariff should have access to, and what times they should be able to access it. When a member then signs up in Coherent, they'll automatically be granted that access
---
Analytics
We're working on bringing analytics to Coherent to give you an insight into your revenue, members, occupancy, tariff popularity and more
You'll be able to access your analytics whenever you need them, and they'll be continuously updating as the month progresses.
---
Misc
We've added loads smaller features such as showing the date and time of a booking on its invoice line item, showing which organisation a particular resource is dedicated to, showing which tariffs are full (to you and your members) and sending new emails when members sign up or make a booking.
We've made UI/UX improvements to a bunch of pages including the booking page, the Organisations page and the Tariff and Resource creation pages.
We're also constantly improving our back-end functionality to make processes smoother or faster, to handle more unique edge cases to prevent errors and bugs, and to improve how your space is managed. 
---
Final Thoughts
We hope you enjoy our feature release and updates from 2018. Please do not hesitate to reach out to us with any feedback or questions you may have. We are just one click away at support@coherent.work