3 Ways to Find Members for your Coworking Space before you Launch
Resource
Coherent attracts a lot of market entrants due to our 1% pricing model for fully-fledged workspace management software.
Many of these spaces are pre-launch, looking to have organised systems in place before opening their doors to the public. This is good practice and it goes hand in hand with finding potential members before officially launching.
So what are the best ways to drum up interest in your space?
---
1) Build a Landing Page
First up, we would recommend setting up a landing page for your space. This could be designed and hosted on Mailchimp, or on your preferred website builder such as; WordPress, Wix or Squarespace.
This is a great idea for several reasons;
You can get people to 'sign up for updates' and gather their contact details. You can then build a newsletter following, or simply a list of people to contact just before you launch. Otherwise, they can bookmark the page.
You can give people early information on this website, such as; pricing options, the location of the space, images of the building progress and prospective launch date.
Having a website allows you to direct people from social channels to an information hub completely under your control.
You reserve your desired website domain in advance of launch, avoiding a last minute panic.
A great example from FloSpace below;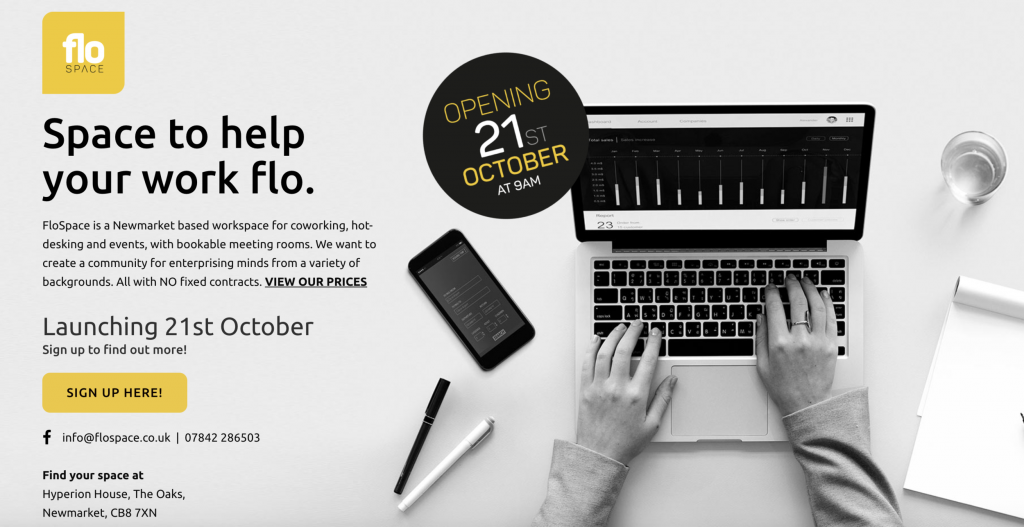 ---
2) Social Media
We would argue that the best channels to find early members are Instagram and Facebook.
Why?
Instagram is super visual and creates stories quickly. Facebook is community-based and groups are a great way to start discussions. Let's look at each of them below and see what you can do to build a following.
Instagram
Set up your profile with a logo (or photo of your space). Don't leave this blank.
In your description state what you offer and where you are, add a link to your website and a call-to-action, e.g. visit our website for more info. You could also include hashtags related to your local area, e.g. #Bristol #CoworkingBristol
Now, you have to start building your network. Find local businesses and influencers, start following them and interacting with their posts. Be sure to tell people who you are, what you are building and why. Although make sure these promotional messages are elegant, rather than forced.
The same strategy applies to your first posts. Caption your images with bite-sized stories. Painting your space? Take a photo and explain why you chose that colour. Remember to hashtag, not all your hashtags have to be rigidly business-like, have fun with them! Keep the tone light, friendly and conversational.
Drop in calls-to-action in your posts. Starting a newsletter? Let people know. Want people to move to your website? Tell them that there's a link in your bio. Invite people to dig deeper into your story and share it with others.
If confident, use the power of video. Short videos of construction work, buying furniture, and designing your space can really help with engagement. Post these as a story or as a one-off post, or both!
Facebook
When setting up your Facebook, the most important step is filling in every detail you can about your space.
Once you are set up, start joining local groups and promoting your space in a non-invasive manner. For example, there might be a freelancers group for your area, these people may have a legitimate interest in your space. However, posting on the local lost & found page is unlikely to get you any useful traction.
Your posts are going to be similar to Instagram in the sense that you will be writing the story of your space. Facebook lends itself to more long-form written content so if you feel like stretching your fingers, go ahead!
One excellent and timeless feature of Facebook is its instant messaging system. This offers a communication channel for potential members, all you have to do is be available and friendly.
Finally, you can do some neat things with Facebook such as creating events or promotional offers. Having a list of events planned ahead of launch, or even just a launch party, is a good idea. Also, time-limited offers encourage people to share with friends or other potentially interested members.

---
3) Networking in your Local Community
Establishing an online presence on social media is important, but in the early stages, the best way to drive engagement with your space is through showing your face at events and creating connections with businesses and individuals in your area.
Ideas for getting the word out;
Do you know your desired audience? Attend local meet-ups

where your target members will be. Most cities and towns will have regular SEO talks, creative groups, hackathons and professional events. If you don't find what you are looking for, why not take the initiative?

Once you have attended a few events you could take this a step further and ask to give a short presentation on your space. Make sure to bring business cards or flyers to hand out to people who are interested in learning more.
Seek out PR coverage in local publications such as; newsletters, websites, newspapers and magazines. Make sure to tell the story of your space rather than giving the dry details.
Connect with local businesses early. Think of ways to establish a mutually beneficial relationship such as discounted yoga classes or gym memberships for members. Not only does this create a perk for your future members, it also turns a fellow local business into an advocate.
---
Do you have any more ideas? We'd love to hear them! Hit us up on socials or email us at hello@coherent.work.
If you'd like to learn more about Coherent and how to get your infrastructure organised before launching your space, send us an email and the team will be in touch!