Around the World in 250 Coworking Spaces
Interviews
Imagine a trip around the world, speaking with and discovering over 250 coworking spaces.
Wouldn't that be great?
Now, imagine having all the unique stories, interiors, and communities right at your fingertips…
Join us as we catch up with Pauline, from Coworkies to hear all about the upcoming release of their new book Around The World in 250 Coworking Spaces.
---
Q. Hello, can you give us a little introduction to who you are and what you do at Coworkies?
Absolutely! My name is Pauline, I am French, and I have been living in Berlin for the last six years. I am the "Chief Making Officer" or more commonly known as CEO of Coworkies – a global job board targeted at coworking spaces and their members.
Q. For anyone who hasn't heard of Coworkies, can you provide an overview of the work you do?
Coworkies is a job board targeted at the coworking industry. As opposed to more "general" platforms like LinkedIn or Indeed, we allow coworking spaces to not only promote their job openings but, we also show the space and the work environment the candidate will have access to because we believe that is a strong hiring asset coworking spaces are still under-utilizing. How do I know that? I still remember the goosebumps I got when I was hired to be the General Manager of a coworking space in Berlin, and I have seen the people I have hired back them feel the same way.
Coworking spaces are special places. We want to support them in attracting the right talents and help them grow in their role through educational content.
Q. How was Coworkies born? What made you decide to start this line of work?
Coworkies was born in a coworking space. As I mentioned, I managed a coworking space myself, which was primarily targeted at early-stage startup founders. Working from that space, and chatting with Dimitar, my now co-founder but at the time, Entrepreneur in Residence of a startup accelerator we were hosting, we realized all the startups were constantly seeking people to work with. Either freelancers or interns and it was quite a challenge for them to find the right people. Seeing so many coworking spaces around us, we started to wonder if there was a way we could connect them, bring together those communities so members can share work opportunities.
And just like that Coworkies was born. The platform has evolved since we started because we've travelled extensively and visited over 400 coworking spaces across 47 cities to show them what we're building and get some feedback.
Hearing their struggles with hiring, and noticing how much the general public does not yet know about coworking jobs, we decided to change that by building our job board.
Q. Can you tell us about your upcoming book, Around the World in 250 Coworking Spaces?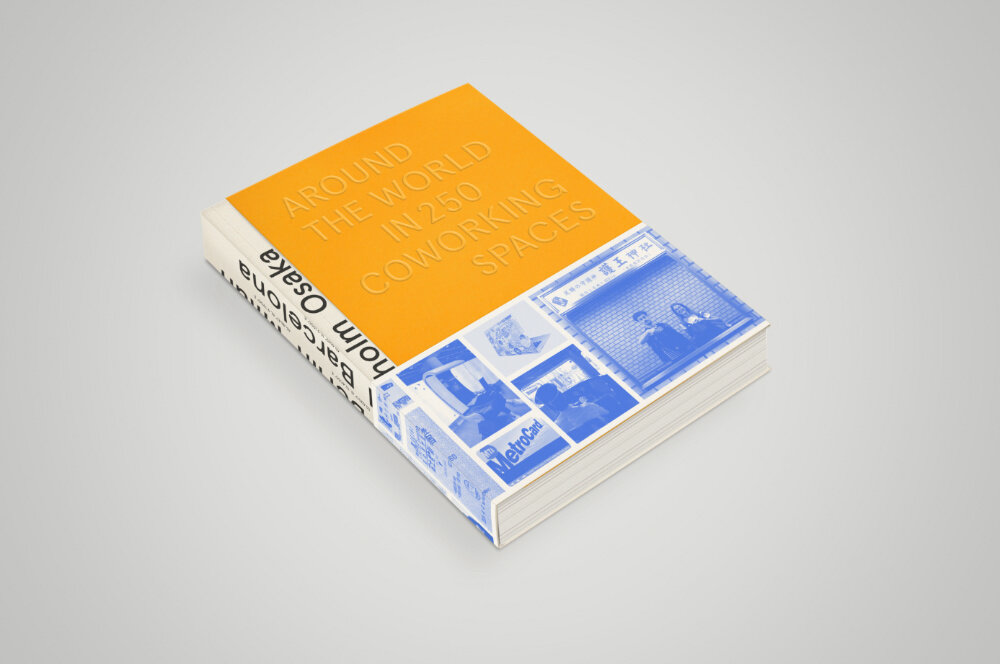 That's a project we are very excited about, and it's also very linked to our story. We never really planned to write a book actually. It all started when we were in New York, meeting with different coworking spaces. During one of our meetings in a coworking space called Based In, its founder Tomas listened to our story and at the end, said "wow, you should write a book!"
While we found the idea super interesting initially, we could not really grasp if a book would make sense. But, hearing more and more founders of coworking, coliving and maker spaces tell us the same thing, and projecting themselves into a coffee table book where they could read and discover other coworking concepts from around the world made us do it.
Q. Where can people go to show their support and buy a copy of the book?
We are currently running a pre-launch campaign on Kickstarter for the next 30 days, offering our extended community the opportunity to: contribute to the final stretch of the project by getting a copy of the book at a discounted price while helping us initiate the printing phase.
Once the campaign is over, the book will be available on our dedicated website.
Q. From your research, have you noticed any significant similarities between workspaces around the world?
I believe they are all more different than they are similar. The one thing coworking spaces all share in common is their intention to provide a space where people can work, network and learn.
But then, the way to do it very much differs from one space to another. We often say "coworking is the same dish each space cooks differently." So while the main ingredients are the same, some people might like it with more salt, or more pepper. Hence, each dish will taste slightly different.
Coworking is that. While the basic ingredient is the notion of being in one shared space, the final outcome varies depending on the location, the local culture, the founders and their vision, the team who runs the space, the interior design, and many other components.
Q. Have you noticed any changes to the landscape of coworking, since the coronavirus outbreak?
The fundamentals of coworking remained but the way to do it, in a physical space, has evolved. More and more workspaces today are changing their operational strategy to ensure members can use the space at different times.
While some spaces have sadly shut down their doors, we saw through the book that some have also opened during the pandemic, which is very interesting. Starting and growing a coworking community during a time where access to the physical space is restricted means a lot of spaces are also exploring online opportunities to keep their communities together.
Q. What do you think the future of coworking will entail?
While I can't exactly predict the future, I believe the pandemic we are experiencing is changing not just the way we work, but also the places we work at. And this is where coworking comes on the map. Some interesting outlooks we could expect for the industry are, for instance:
Work from anywhere means coworking will develop even more everywhere
I would not be surprised to see it develop everywhere, not just in big metropolitan cities but also in very remote locations, allowing people to stop commuting every day and start deciding where they want to work from. Coworking spaces will empower employees to really choose where they want to work every day, allowing them always to feel inspired and motivated to do their best work.
Coworking as an integral part of companies' workspace strategies.
The remote work trend is undoubtedly reaching more and more companies now, meaning it is redefining the office's entire purpose, especially for large companies. We recorded a podcast during Hack Coworking, our online hackathon, last year with a workspace strategist from the Silicon Valley. In the episode, she shared her observations, following Facebook and Twitter's announcement to allow remote working for their staff permanently and how coworking would play a role in building what she called "the new normal." The episode is full of insights about what the future of workspaces might look like, you can access it here.
A new crowd coming to coworking spaces means new membership models/ concepts might arise
We believe that coworking will be part of any company's workspace strategy, meaning employees will have an allowance to work from wherever they want. It might also mean that new membership models or new concepts might arise, explicitly targeted at those people.
Their needs and expectations are different compared to smaller companies and freelancers, hence, they might not be able to join any coworking space if their company has precise requirements (thinking for instance of privacy and security). That factor might also change how coworking spaces are designed (for those who seek to target those people), with more private offices or extra security added.
Q. What are you looking forward to the most in the future for Coworkies?
Right now, I am very excited about the book and its release. I am looking forward to seeing readers with a copy in their hands, finding inspiration from entrepreneurs or discovering interiors and communities that thrive all over the world, and sharing with us, stories that inspire them.
Q. If you could share one piece of advice for anyone looking to open their own coworking space, what would it be?
Ask yourself why you want to do it, and for who.
Once you have that figured out, you will have a clearer path in front of you to know where to start from and how to reach the people you would like to attract.
I would also advise you to connect with people who run coworking spaces to understand exactly what lies ahead of you and so you can become aware. As, if you open a coworking space in a city/ region where people have never heard of it, you might have to take on the role of an "educator", by explaining what it is, why it is good, etc. Whereas if you open one in a city where there are some already, your position will be totally different and so will your marketing strategy.
---
Would you like to know more, show your support or buy a copy of the book?